Daevid Allen, the whimsical visionary behind the seminal prog rock act Gong, has died. He was 77.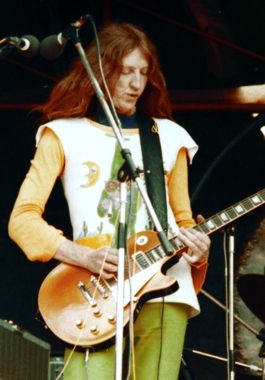 As a bandleader in the vein of Sun Ra, George Clinton and Frank Zappa, Allen lorded over a strange and imaginative musical universe, complete with its own LSD-fueled mythologies.
Gong persisted over five decades with a changing cast of musicians and under variations on the band's name such as Planet Gong. "A communal thing," Allen said.
Allen, a singer and guitarist, also is known for co-founding the Soft Machine, another progressive rock touchstone.
Allen was born and died in Australia — although the Soft Machine was a seminal act out of the scene in Canterbury, England, and Gong was formed in France.
Both bands specialized in bold instrumental passages and were influenced by offbeat jazz artists such as Sun Ra and Ornette Coleman, the beat poets and the European surrealists.
Gong, Allen's longtime vehicle, specialized in space-rock fantasy and psychedelia gilded with references to cosmic tea kettles, yogis, gnomes and pothead pixies.
As a young poet, Allen moved to Europe in the early 1960s, hanging with Beat Generation writer William S. Burroughs. Allen formed the Soft Machine — the band name a Burroughs tribute — in 1966 along with Robert Wyatt, Kevin Ayers and Mike Ratledge. The band performed at London's famed psychedelic dungeon the UFO Club and recorded various singles and demos with the producers Chas Chandler, Kim Fowley and Giorgio Gomelsky.
Allen, who sang and played guitar and bass in the Soft Machine (later known as just Soft Machine), had visa issues and was denied re-entry to Britain at the end of a group tour of France. (As a result, he never played on Soft Machine albums.) He remained in France, recording the first Gong album and then a solo album.
In the early 1970s, Gong released its classic progressive rock album "Camembert Electrique" (1971) and then the LPs known as the "Radio Gnome Trilogy" (1972-1974). Key band members were Gilli Smyth (Allen's wife and "space whisperer"), flutist and sax player Didier Malherbe and young guitarist Steve Hillage.
Allen and his bandmates were early and enthusiastic experimenters with electronic instruments. Allen's songwriting reflected his absurdist sense of humor, for which he partly credited BBC radio oddballs Ivor Cutler and Spike Milligan.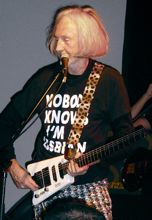 The now-famed prog guitarist Hillage recalled that he "had become very attracted to Daevid and Gong because they had become like the bad boys of the Canterbury scene and that had great appeal to me. I love that extreme psychedelic sound."
Allen famously left his group before a concert in 1975, saying a "force field" blocked him from going onstage. (He returned in 1991.)
The early Gong albums remain vastly influential for prog rock, electronica and psychedelic musicians, but they never led to commercial success. Allen cheerfully remained a cult figure throughout his long career.
Allen released something like 50 recordings over the decades, including 2014's Gong finale "I See You." Other band affiliations included the Magick Brothers, Acid Mothers Temple, University of Errors and Brainville 3.
Allen returned to Australia in 1981. He considered himself as much a poet as rock musician. "I only do poetry in Australia; they've never really got my music," he said in 2009.
He was diagnosed with cancer in 2014 and decided to suspend treatment earlier this year, saying he was "not interested in endless surgical operations" and that it was "a relief to know that the end is in sight."
"I can only hope that during this journey, I have somehow contributed to the happiness in the lives of a few other fellow humans," he wrote on Gong's web site.
Born Christopher David Allen, the musician died March 13 in Australia, survived by his four sons.