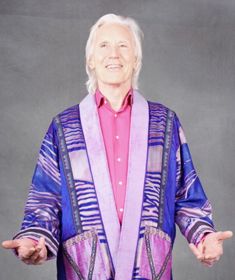 Chris Stamp, longtime co-manager of the Who, has died at age 70. The band called the loss "hard to bear."
Roger Daltrey paid tribute while the Who was performing in Detroit, saying that without Stamp, "we wouldn't be the band we were."
In 1963, Stamp and his filmmaking partner Kit Lambert bought out the Who's original manager and guided the band to international fame. Daltrey later wrote that Lambert was an "expert in cool, menace, and scams."
Stamp produced the Who's fourth album, "Magic Bus" (a U.S. compilation), and went on to executive-produce "Tommy," "Who's Next" and "Quadrophenia."
In 1966, Stamp and Lambert launched Track Records as a vehicle for the Who. The indie label's first single was "Purple Haze," by London underground sensation Jimi Hendrix. Track then released the first four Hendrix albums and the Crazy World of Arthur Brown's "Fire." Who records on Track included "The Who Sell Out," "Tommy," "Who's Next" and "Quadrophenia." (U.S. rights to these recordings were sold off )
The label came to notoriety in Britain for nudity on the covers of Hendrix's "Electric Ladyland" and John Lennon & Yoko Ono's "Two Virgins." Other acts on Track included Fairport Convention, Thunderclap Newman and Golden Earring.
Stamp & Lambert, known for living rock and roll lifestyles, parted ways with the Who in the mid-1970s amid allegations of malfeasance and mismanagement. Lambert died in 1981. Stamp went into rehab and became a psychotherapist based in New York City, with a strong interest in new age and Eastern philosophies. Clients sometimes called him "the Wizard," a family death notice said.
Stamp later re-established his friendship with the Who.
(Update: A biopic about Lambert will be directed by actor Cary Elwes, with musical participation by the Who, the Hollywood Reporter said in mid-December.)
Stamp, who was born in East London, died Nov. 24 in New York. Survivors include his wife and his brother, the actor Terrence Stamp.
The Who currently are touring the U.S. with a revival of "Quadrophenia."