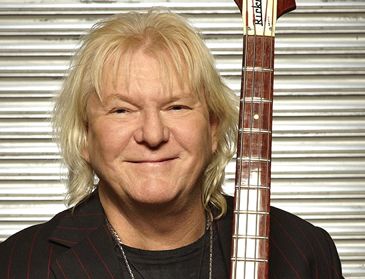 Chris Squire, the bass player for Yes who was a mainstay and founding member of the prog rock band, has died. He was 67.
The British musician suffered from leukemia.
Squire also co-wrote some of the band's top songs, including "I've Seen All Good People," "Yours Is No Disgrace" and "Owner of a Lonely Heart."
His smooth yet propulsive bass playing drove songs like "Roundabout" and the band's workout on "America."
While prog remains primarily a keyboard-driven genre, Squire enjoyed a high-profile role in Yes. At a time when most bassist were content to stay on "the root," Squire was unusually active. His work influenced generations of prog and jam-band bassists.
"For the entirety of Yes's existence, Chris was the band's linchpin and, in so many ways, the glue that held it together over all these years," Yes said on its Facebook page. It said Squire had "peacefully passed away last night in Phoenix Ariz."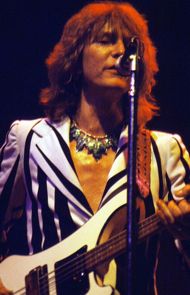 "Because of his phenomenal bass-playing prowess, Chris influenced countless bassists around the world, including many of today's well-known artists," the post said. "Chris was also a fantastic songwriter, having written and co-written much of Yes' most endearing music."
The band, which dates back to 1968, was scheduled to begin a tour in August, but Squire had not been expected to participate. He confirmed in May that he was suffering from acute erythroid leukemia. The tour will be the first time the band has performed without its co-founding bass player.
Yes began in 1968, when Squire hooked up with singer Jon Anderson. Their groundbreaking prog albums "Fragile" and "Close to the Edge" were released in the early 1970s.
Squire typically wrote the music for the band's original songs, with vocalist Anderson providing the new-age lyrics. Squire also wrote lyrics, however. Yes' revolving door of musicians brought other writers into the mix.
"Owner of a Lonely Heart" provided Yes with a No. 1 single in 1983.
Squire released the solo album "Fish Out Of Water" in 1975 (Fish was his nickname). He played in side projects with musicians such as Jimmy Page, Billy Sherwood, Paul Stacey and Steve Hackett.
Squire played on all of Yes' studio albums. "The fact that I've been there the whole time, it's been more by default than by design, really," he told Guitar World in 2011. Other Yes stars such as Jon Anderson and Rick Wakeman have "come back and left again and come back and left again. That just seems to be the history of Yes."
Squire typically worked with his 1964 Rickenbacker bass, which he bought new and modified over the decades. He played with a pick, unusual for bassists. He recalled that he'd had a tough time finding session work early on because of his "busy" style. His influences included Cream's Jack Bruce, another bassist who played the instrument as if it were a six-string guitar.
Squire was born in northwest London in 1948. He died June 27 in Phoenix, Ariz., where he had a home.