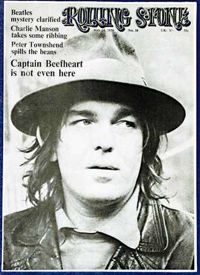 Don Van Vliet, the musician and painter widely known as Captain Beefheart, has died at age 69.
While Van Vliet long enjoyed the respect of musicians and a cult of hardcore fans, he remained a fringe recording artist throughout his music career, which stretched from the mid-1960s until 1982.
Upon hearing of his friend's death, Tom Waits compared his legacy with those of Ornette Coleman, Miles David and Sun Ra.
"Don Van Vliet was a complex and influential figure in the visual and performing arts," according to the gallery that sold his abstract artworks and announced his death.
"Trout Mask Replica," the noisy 1969 album from Captain Beefheart and his Magic Band, was produced by Van Vliet's pal Frank Zappa. That strange brew of psychedelic rock, avant garde jazz and gritty blues remains Van Vliet's best-known work. The debut album "Safe As Milk" also found some early success. His signature song, the blues rocker "Electricity," came from that album.
Frank Zappa and Don Van Vliet were childhood friends in Lancaster, Calif., on the edge of the Mohave Desert. As teens, they bonded over free jazz and Delta blues. Van Vliet's singing often has been compared to Howlin' Wolf's, and that growl filtered down to Tom Waits.
"He was the one who goes ahead and shows the way," Waits told the L.A. Times after hearing of the Dec. 17 death. "He drew in the air with a burnt stick. He described the indescribable. He's an underground stream and a big yellow blimp."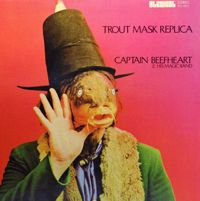 Enshrining "Trout Mask Replica" as No. 58 on its Greatest Albums of All Time list, the magazine wrote: "On first listen, (it) sounds like raw Delta blues: Don Van Vliet (a.k.a. Captain Beefheart) singing and ranting and reciting poetry over fractured guitar licks. But the seeming sonic chaos is an illusion — to construct the songs, the Magic Band rehearsed twelve hours a day for months on end in a house with the windows blacked out."
At the time of "Trout Mask Replica's" release, Rolling Stone described the music as "a strange cacophonous sound — fragmented, often irritating, but always natural, penetrating and true."
Update: In April 2011, "Trout Mask Replica" was added to the National Recording Registry of the Library of Congress. "This unclassifiable melding of country, blues, folk and free jazz filtered through Captain Beefheart's feverishly inventive imagination remains without precedent in its striking sonic and lyrical originality," the Registry noted.
Van Vliet's death was attributed to complications resulting from multiple sclerosis. He had struggled with the disease for years and had been confined to a wheelchair.
Van Vliet long claimed he was a child prodigy in the visual arts, painting and working in sculpture. He continued to paint abstracts throughout his life. His works are repped by the Michael Werner Gallery, which confirmed his death. Werner reportedly was key in Van Vliet's decision to quit music and focus on art.
As Captain Beefheart, Van Vliet proved a domineering bandleader, with one of his Magic Bands quitting en masse in the mid-'70s. Ry Cooder was an early backing musician who eventually decided he could not work with Van Vliet.
Zappa and Van Vliet reportedly clashed early and often in their musical affiliations, with Zappa saying he produced Van Vliet by giving up and letting him do what he wanted.
"When it comes to art, I have a real streak of fascism," Van Vliet said a few years after abandoning music.
Further reading (if you can find it): The 2010 book "Beefheart: Through the Eyes of Magic" by John French, which covers the making of "Trout Mouth Replica."