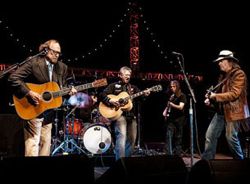 Buffalo Springfield again? Not so fast: Word comes that the recently united band won't be hitting the road this fall after all.
Singer guitarist Richie Furay just posted the following on his Facebook page: "For those of you getting excited about the Buffalo Springfield fall tour — word has just come to me that it has been moved to the first of next year.
"I'm not going to spend a lot time here with details as you speculate among yourselves — there's nothing to speculate about, the tour has simply been moved."
Neil Young, Stephen Stills and Furay played six dates in recent weeks, in Oakland, Los Angeles, Santa Barbara and at the Bonnaroo music festival in Tennessee. The three are the surviving members of Buffalo Springfield, although Jim Messina played bass in the band, briefly.
Rolling Stone reported that Stills had some pain playing guitar on those dates and fretted about meeting a 30-date touring schedule. "They better have a break. Cause if we have this much trouble with six (shows), I can't imagine 30."
Ticketmaster had no tickets for sale as of late June 30. It's unclear how firm the fall tour was, since no dates had been announced.
"There will be a fall tour — September, October, November," Furay said before the Bonnaroo gig. "We have a bunch of cities for the fall that we're looking at right now to just logically put together."
The Los Angeles Times music blog said of the Springfield's L.A. shows at the WIltern:
"If Saturday's sold-out homecoming had all the makings of a trapped-in-amber nostalgia-thon, Buffalo Springfield could scarcely have seemed less concerned with upholding its legacy. … The band tore through material from its three studio albums … with the kind of abandon not often seen on the back-from-the-dead circuit."
Songs played on the June tour included "On the Way Home," "Rock and Roll Woman," "Burned," "Go and Say Goodbye," "Kind Woman," "Mr. Soul," "Nowadays Clancy Can't Even Sing" and an extended jam on "Bluebird." Encores were "For What It's Worth," "Broken Arrow" and Young's hard-rocking "Rockin' in the Free World."
All of the gigs were recorded, although no plans for a live album were announced.
(Home page image: Michael Zelner)