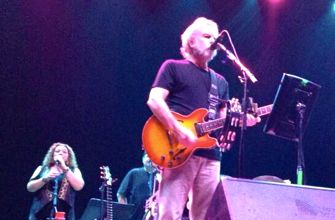 Bob Weir was back in action Saturday as Furthur played Atlantic City, two nights after the singer/guitarist collapsed onstage after struggling through most of the band's show.
Update: Furthur canceled its BottleRock Napa Valley music festival appearance of May 9. The Further web site said, "Grateful Dead & Furthur co-founder Bob Weir is unable to perform in any capacity for the next several weeks." Weir and the band will return July 11 in Brooklyn to kick off the summer tour, the post indicated. /update
After Weir's fall in Port Chester, N.Y., a bandmate said on social media that Weir mistakenly had taken the sedative Ambien instead of a painkiller for a recent shoulder injury.
"Sometimes the rock n roll life is not all rainbows & fairy dust," guitarist John Kadlecik posted on his Facebook page after the show. His page was no longer available Saturday.
Furthur/Grateful Dead bulletin boards and social media were afire Friday and Saturday as fans debated whether the band should have kept playing after Weir collapsed. Roadies helped Weir off stage after the collapse, a widely circulated video of the event showed.
"Bobby had help at this point," the guitarist wrote of the collapse, "so the next person in need of support was Phil (Lesh)," who had continued playing and singing "Unbroken Chain." The musicians did not seem totally surprised by Weir's collapse. Lesh told the crowd Weir suffered the shoulder injury while working out.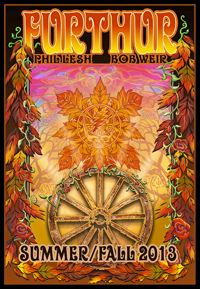 Several fans close to the stage said Weir had been having trouble performing throughout the show, and was forgetting lyrics. The band was ending a nine-show run at the Capitol Theatre in Port Chester, a legendary hall in the Grateful Dead history.
Weir was photographed the next night having dinner in Connecticut. The band posted and Tweeted Saturday afternoon that the Boardwalk Hall show in Atlantic City was a go.
Furthur, including Weir, played two full sets in Atlantic City, ending with "Touch of Grey." Furthur's Twitter page featured a photo of Weir playing at the Boardwalk Hall on Saturday (above).
In early March, Weir walked offstage in Mill Valley, Calif., angered by the noise from people at the bar during his acoustic set. He returned with his Ratdog Quartet, and at another point told the crowd to "Shut the fuck up."
Furthur is scheduled to continue touring through the summer and fall.
More Grateful Dead-related content from Psychedelic Sight:
---
Grateful Dead store
(Getting high on Amazon's supply)