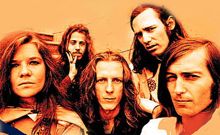 Big Brother and the Holding Company member James Gurley, once dubbed the "father of psychededlic guitar," has died at the age of 69.
Gurley (center in photo, with Big Brother) died of a heart attack at his Palm Springs home, two days before his 70th birthday.
Big Brother guitarist Sam Andrew wrote on the band's web site that "James was the spirit and the essence of the band in its early days. He showed us the way as a Zen master would show the way." Country Joe and the Fish lead guitarist Barry Melton has called him "the Yuri Gagarin of psychedelic guitar … the first man in space."
Gurly played on the band's recordings with Janis Joplin, notably "Ball and Chain" and "Piece of My Heart." His screaching intro to "Cheap Thrills
" is among the best known guitar performances of the psychedelic era. Guitar Player magazine listed Gurley and Andrew's off-modal work on "Summertime" as one of the best psychedelic solos ever recorded.
Gurley was a self-taught guitarist, who closely studied the recordings of bluesman Lightnin' Hopkins. He moved to San Francisco in the early 1960s and played the coffee-house circuit as a folk musician, as did many of the musicians who would later shape the psychedelic "San Francisco Sound."
"He was plugged into the early San Francisco scene before the rest of us were," Andrew told the Marin Independent Journal.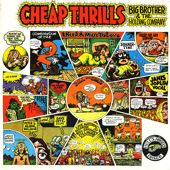 Rock promoter and psychedelic music patron Chet Helms brought Gurley into the young Big Brother and the Holding Company, which built a following around his aggressive, high-volume, amp-abusing playing style. He was the band's first star, until Helms imported Texas singer Janis Joplin.
In a Big Brother web site tribute, drummer David Getz recalled the first time he heard Gurley: "I'd never heard anyone play guitar like that, heard a sound like that. It was this frenzy of notes that took one to the kind of place that people like Ornette Coleman and John Coltrane were trying to reach, not something you expected to hear from a rock band."
Rolling Stone's Lester Bangs called Gurley's playing "a searing storm of noise … directed (at listeners) with a kind of joyous fury."
Big Brother as a band often drew fire for ragged playing, often attributed to drug use. Joplin soon left the group, taking Andrew with her. Gurley recalled the superstar's departure as "a sick morass of disgusting slime."
Gurley played bass in the post-Joplin Big Brother, which recorded several albums before disbanding in 1972. (The married guitarist and Joplin apparently had an affair in the band's early days.) He joined Andrew and Getz in a reunited Big Brother in 1987, remaining a member until 1996, when he left on bad terms.
Gurley had a long history of drug-related problems. In 1970 he was charged with second-degree murder in the heroin overdose of his wife, but was acquitted.
In later years, he released solo albums ("Pipe Dreams," "St. James") and worked in new age and space rock. He formed a musical partnership with percussionist Muruga Booker. "I didn't want people to come hear me play and want "Ball and Chain," Gurley said of the solo works.
Gurley is survived by his second wife and two sons. Big Brother is planning a benefit performance for Gurley's family early next year.