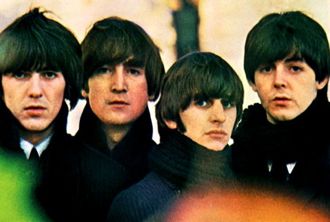 Details are sketchy, but the Beatles catalog appears to be returning on audiophile vinyl this fall, straight from Abbey Road Studios.
The Beatles Stereo Box Set and the 14 individual album titles begin shipping Nov. 13, Acoustic Sounds said.
The audiophile recording distributor announced the product in an email to customers Friday, Sept. 21.
Links to the individual titles yielded nothing but a note that an announcement was coming Oct. 1. The company's web site also had a prominent teaser about a "major vinyl announcement" that couldn't be unveiled because of "legal concerns."
Update: Here are the details of the Beatles vinyl collection, as provided by Acoustic Sounds. /update
Abbey Road Studios, home of the Beatles, copied the original master tapes into 24-bit/192 Khz files and then cut the result to lacquer, the distributor said.
The new Beatles Stereo Box Set is said to be a limited edition collection of 16 remastered LPs and a collectors booklet.
"This project has been years in the making with multiple hold-ups due to the meticulousness of all involved," the press release said.
The Beatles catalog got an urgently needed upgrade in fall 2009, with the release to CD of the "The Beatles: Stereo Box Set" and "The Beatles Mono Box Set," as well as the 14 albums. The remastered recordings received rave reviews, for the most part.
Acoustic Sounds specializes in high-end SACDs as well, but there was no hint of the Beatles catalog coming to that digital format. The company's ongoing releases of the classic Doors albums began in August with vinyl, to be followed in October by hybrid multichannel SACDs. The specialty label released the Pink Floyd album "Wish You Were Here" on a 5.1 SACD late last year
The digital SACD releases would present the opportunity to re-do the Beatles albums in surround sound.
The Beatles mono set of 2009 was billed as a limited edition, but copies remain widely available via the usual outlets such as Amazon.
Mobile Fidelity issued a complete Beatles box set on vinyl in 1982. Capital Records released a Beatles box set to vinyl in 1978 and 1979. Numerous vinyl Beatles box sets came out as imports in the '70s and '80s.
For last fall's record Record Store Day, "The Beatles: The Singles" box set was released with four 7-inch picture-sleeve singles in a flip-top box.
Here are the albums in the vinyl Beatles Stereo set:
Please Please Me
With The Beatles
A Hard Day's Night
Beatles For Sale
Help!
Rubber Soul
Revolver
Sgt. Pepper's Lonely Hearts Club Band
Magical Mystery Tour
The Beatles (The White Album)
Yellow Submarine
Abbey Road
Let It Be
Past Masters
More Beatles news:
"Magical Mystery Tour" film coming to Blu-ray
"Yellow Submarine" returns on Blu-ray, CD