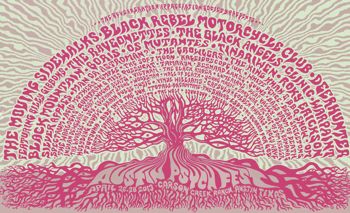 Austin's Psych Fest seems in danger of becoming an institution. The sixth celebration of psychedelic music sprawls across three days this weekend, with regional heroes Roky Erickson and the Moving Sidewalks headlining.
"Austin Psych Fest has become the world's premiere showcase of psychedelic rock," the event's web site proclaims — no brag, just fact. The festival has a distinct international flavor this year.
Psych Fest peaks Sunday night, with Erickson, the Black Angels and then the Moving Sidewalks (pictured) laying waste to the "Reverberation" stage.
Roky Erickson, an inventor of psychedelic music with the 13th Floor Elevators, returns after a 2011 performance at the festival. Top neo-psychedelic act the Black Angels include several producers of the event. The Moving Sidewalks features, of course, original member Billy Gibbons. The mid-1960s band recently reunited in New York and released an album.
The festival moves to the Carson Creek Ranch, located east of town. It's the sixth venue for the 6-year-old fest.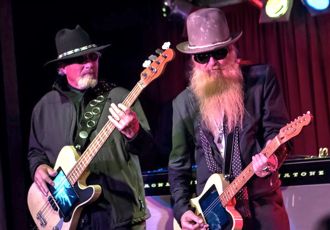 Highlights of the extensive Psych Fest schedule include Tinariwen from Mali, the Black Ryder from Australia, Os Mutantes of Brazil, Silver Apples, the UFO Club (Black Angels spinoff), Acid Mothers Temple, the Raveonettes, Man or Astroman?, Bass Drum of Death, Goat, and a host of promising bands with spectral names.
Three stages will keep the talent moving throughout the long weekend. By way of comparison, the 2008 edition had 10 acts.
Musicians Christian Bland and Alex Maas of Black Angels are producers of the Psych Fest as part of the Reverberation Appreciation Society.
Of the finale with Erickson and Gibbons, singer Maas says, "If you'd have told me when we first started this festival that these guys would be on our lineup, I would have called bullshit."
The festival was inspired by the legacy of Erikson and his 13th Floor Elevators of the 1960s. The Black Angels have toured with the eccentric Austin musician.
Tickets are $60 per day, or $150 for the weekend.
(Moving Sidewalks photo by Arnie Goodman, NYC)