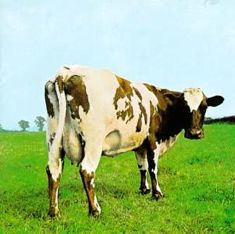 The year 1970 found Pink Floyd in search of a title for their latest musical exploration, a psychedelic suite of sorts.
Roger Waters picked up a copy of the Evening Standard newspaper, in which he found a story about a woman about to receive a nuclear-powered pacemaker.
Voila!
And so we have "Atom Heart Mother," one of the band's most-debated works, a sprawling suite that's by turns exhilarating, monotonous, hypnotic, pretentious and primeval.
Waters, creator of "The Wall," later suggested that the piece should "never (be) listened to by anyone ever again." Guitarist David Gilmour called it "pretty horrible" — "absolute crap."
Rolling Stone agreed, calling the suite "awful schmaltzy" and "a step headlong into the last century … a dissipation of (Pink Floyd's) collective talents."
So of course plenty of Pink Floyd diehards love the "Atom Heart Mother" suite, all 24 minutes of it.
(Update: The album was rereleased as part of the 2011 Pink Floyd upgrades.)
In 1970, Pink Floyd had been performing in concert an extended piece that would come to be variously known as "Theme From an Imaginary Western," "Epic" and "Amazing Pudding." Gilmour and Waters reportedly wanted to write a classically structured work around its themes, but came up frustrated. They turned to British avant-garde composer Ron Geesin, who'd done an offbeat side project with Waters.
Geesin arranged the work, calling in the John Aldiss Choir and an orchestral brass section, which collectively soared above the psychedelic band's basic tracks of guitar, drums and keyboards. Of the Pink Floyd members, only Gilmour gets a solo section. Other key instruments in the piece are French horns and cello.
The suite consisted of six parts, the parameters of each on the fuzzy side:
Father's Shout
Breast Milky
Mother Fore
Funky Dung
Mind Your Throats, Please
Remergence
Father's Shout sneaks in with 30 seconds of near-silence — a faint buzz. French horns manage a woobly fanfare, soon set straight by a display of of Pink Floyd's rock muscle. We hear horses and motorcycles moving through as the French horns play bravely on, establishing the "Atom Heart Mother" theme.
Breast Milky offers a cello part, framed by Richard Wright's loopy organ riff and a supple bass. Gilmour's slide guitar turns things back to rock, with the horns reasserting the suite's theme.
In Mother Fore, the choir sings as if in Mass, backed by Hammond B-3 organ. Here is the softest of these six passages. The rock band returns in the lengthy section's final minute, providing much-needed relief.
Gilmour's guitar and Wright's B-3 take the wheel in "Funky Dung," a white boy blues jam straight out of 10 Years After. The chorus goes native, descending into an aggressive chant right out of "The Exorcist." The main theme returns in full throat, drums pounding as the French horns slice the air. Here is "Atom Heart Mother" at its best.
The section "Mind Your Throats, Please," at first recalls the Beatles' "Number Nine," electronic noodling evolving into metallic din. The careful listener is rewarded here … while others may flee. Gilmour again wields his slide, coaxing band, choir and horns back to full power. The choir ends it all with a heroic burst that's straight out of a swords-and-sandals score.
While the critics stood about unimpressed, the "Atom Heart Mother" album went to No. 1 in Britain. Stanley Kubrick was among the fans of the curious suite: He sought permission to use the work in "A Clockwork Orange," but was denied. (The director subsequently refused to let Waters borrow images from "2001: A Space Odyssey.")
Despite Gilmour's dumping on the suite over the years, he turned up to play his guitar part when pal Geesin revived "Atom Heart Mother" in 2008, complete with chorus and orchestra.