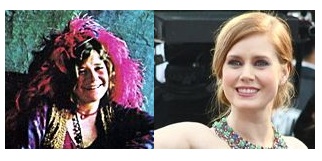 America's sweetheart Amy Adams as hard-living, leather-voiced singer Janis Joplin? Yes, that was an enormous collective WTF from Baby Boomers and the Generation X'ers who love them.
"Twilight" producer Wyck Godfrey let slip the left-fielder that Adams ("Enchanted," "Junebug") is the latest actress aiming to play Joplin in a biopic. "City of God" director Fernando Meirelles is aboard "Get It While You Can" as well, Godfrey says.
Adams doesn't look her years — 35 of them — and Joplin always looked a lot older than hers. But at best Adams will go before the cameras being eight years older than Joplin when the singer died of shooting dope in a dicey Hollywood hotel.
What could possibly prepare the former Mormon, ballerina, Disney princess and Gap greeter for inhabiting the drug-and-booze-ravaged body of Joplin? Adams' brief stint at Hooters and her role in "Psycho Beach Party" offer some faint hope.
Then there's the beauty thing. Adams has plenty. Joplin … had a great voice. But, as many have pointed out, who could have imagined Charlize Theron as the ugliest woman in Florida in "Monster." And no doubt Adams can sing and work a stage.
Other contemporary actresses linked to Joplin roles over the years include Pink (a major fan), Zooey Deschanel, Brittany Murphy, Scarlett Johansson and Renée Zellweger. Lindsay Lohan, Nikka Costa and Brittney Spears also had some flirtations with Joplin projects.
Bette Midler, of course, did what is to this point the best Joplin on film, playing the thinly disguised singer in "The Rose." Midler won the Oscar for her performance, highlighted by a blazing version of "Stay With Me Baby."
Penelope Spheeris' apparently abandoned "Gospel According to Janis" originally had Pink in the lead role, but she reportedly walked out on the project, citing a "circus" atmosphere in casting. Deschanel then came aboard, taking months of voice lessons aimed at imitating Joplin, but the project dragged on for years. IMDB lists that production's status as "unknown."
Zellweger was attached to a Paramount project that also failed to surface at the boxoffice.