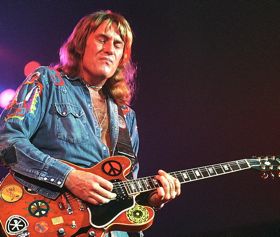 British guitar hero Alvin Lee died today at the age of 68.
The longtime Ten Years After singer and frontman died of "unforeseen complications from a routine surgical procedure," his family announced on the musician's web site.
Lee, co-founder of Ten Years After, played in the band from 1966 through 1974, and then participated in various reunions. The lightning-fast guitarist recorded and toured as a solo act up until his death.
A bandmate called Lee "an inspiration for a generation of guitar players." Lee's signature guitar was a Gibson 335 known as Big Red.
Ten Years After's hit albums were "Stonedhenge" (1969), "Sssh" (1969), "Cricklewood Green" (1970) and "A Space in Time" (1971). The band combined blues and psychedelic rock with sprinklings of jazz and R&B, a sound that initially found favor in the underground and spread into the mainstream.
Lee and the band were best known for the electrifying performance of "I'm Going Home" at Woodstock, an 11-minute highlight preserved by the fest's movie and album.
"The solo on the movie sounds pretty rough to me these days," Lee told Guitar Aficionado magazine in 2012. "But it had the energy, and that was what Ten Years After were all about at the time."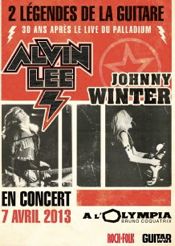 Ten Years After toured the U.S. relentlessly during their peak years, becoming regulars on the rock festival circuit and playing the Fillmores for fan Bill Graham.
Other Ten Years After FM radio hits included "Love Like a Man" and "I'd Love to Change the World."
Lee left the band in 1974, dissatisfied with pressure from new label Columbia to create mainstream rock. Before that, the band recorded for Deram, a UK label known for its progressive music acts.
"We had our differences," bass player Leo Lyons said today of Lee, "but we shared so many great experiences together that nothing can take away." Lyons said Lee was "the closest thing I had to a brother"
Lee's many solo albums focused on the blues, harkening back to the second Ten Years After record, the live "Undead." That raw and straight-head 1968 album earned the band a following of electric blues fans, many of whom lost interest as the band turned to rock music.
After Lee broke from Ten Years After, his 1973 album "On the Road to Freedom" featured UK rock royalty George Harrison, Steve Winwood, Ron Wood, Jim Capaldi and Mick Fleetwood.
Lee had been booked to play Paris' Olympia on April 7, with fellow blues guitar star Johnny Winter.
In 2012, he released the solo album "Still on the Road to Freedom." A double-CD best of also came out that year.
Ten Years After drummer Ric Lee said today: "We are all stunned. All of us. … We are thinking of his family and friends today." (Alvin Lee and Ric Lee were not related.)
Ten Years After continues to tour with frontman Joe Gooch.
Alvin Lee was born in Nottingham, England, on Dec. 19, 1944, as Graham Alvin Barnes.