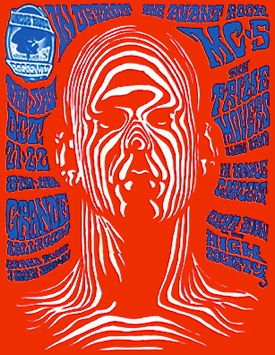 Psychedelic poster artist Gary Grimshaw, whose designs applied muscular polish to the images of Detroit rock bands, has died at age 67.
Grimshaw was closely identified with his pals the MC5, but also worked the psychedelic circuit for the Detroit Grande Ballroom, doing posters for gigs by Cream, Jimi Hendrix, the Who and the Electric Prunes.
His style often employed bold colors and thick legible type fonts, a contrast to the flowery images and byzantine typefaces popular in the San Francisco scene of the 1960s. Influences included comic books and the hotrod imagery of the era.
Grimshaw's art remained in demand into the new century, with works including an iconic wheels-of-fire poster for R&B rockers the Detroit Cobras.
The Vietnam War vet was a member of the White Panthers, a radical group of the late 1960s. He did several psychedelic posters related to the legal tribulations of the group's leader, John Sinclair.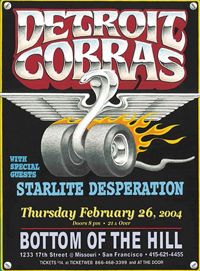 The artist was exposed to the psychedelic aesthetic of San Francisco when his Navy carrier docked in the Bay Area in the mid-1960s. Upon return to Detroit, he fashioned a psychedelic light show for the Ballroom and moved on to concert posters.
"If (Grimshaw) hadn't been the poster artist for the counterculture, he could have been its poster child," a writer for the Detroit Free Press noted.
The artist lived in the San Francisco Bay area in the 1990s and returned to Detroit about a decade ago.

Gary Grimshaw was the co-creator of the graphic arts book "Detroit Rocks! A Pictorial History of Motor City Rock and Roll 1965 to 1975." His credits include a stint as an art director at Creem magazine.
Grimshaw, who was born in Detroit and grew up in nearby Lincoln Park, had been ill for some time and had suffered several strokes, local media said. A memorial was being planned for March.