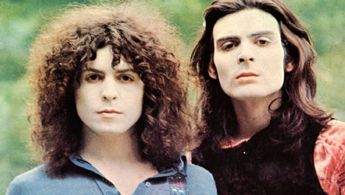 Midway between Bolan's faerie fantasies and his hitmaking electric boogie came a pair of albums with some of the strangest and most interesting music of the English guitarist's career.
Come March 3, Universal Music gives the Deluxe Edition treatment to these transitional albums, one released under the band name of Tyrannosaurus Rex and the other under T. Rex.
The two double-disc sets, packed with bonus tracks, will be available in the U.S. as CD and vinyl imports. Universal says both albums have been "comprehensively remastered."
The two 1970 albums — "A Beard of Stars" and "T. Rex" — followed Bolan's breakup with flower-power percussionist Steve Peregrin Took, an acid casualty who was replaced as of these records by Mickey Finn.
"A Beard of Stars" saw the first extensive use of electric guitar in Bolan's recorded work, immediately introduced on a trippy instrumental number and fortified with fuzz and wah. The music is a long way from the guitar heroics of "Electric Warrior," however — songs still glide along on mystical lyrics, references to Tolkien and paeans to the natural world.
The strongest "Beard of Stars" tracks range from psychedelic folk ("Dove") to electronic drones ("Organ Blues"), space rock ("Wind Cheetah"), epic '60s Brit-rock ("Elemental Child") and a few hints of the glam-boogie to come.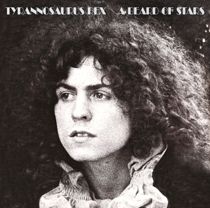 The Universal Deluxe Edition version packs in 47 tracks, with disc 1 filled out with the fine B-side "Find A Little Wood" and performances from John Peel's BBC Radio One show. Disc 2 consists of alternate takes and unreleased home demos of "Beard of Stars" songs.
Uni also plans a companion 7-inch vinyl rerelease of the track "By the Light of the Magical Moon."
"T. Rex" followed at year's end, but the original album told only part of Bolan's story at the time. The new edition fills in those blanks:
The album rode in on the success of the T. Rex single "Ride a White Swan." The song, which made Bolan a star, didn't make it onto the original (U.K.) album, but is included here, immediately after the LP tracks. There's also a previously unreleased "Top of the Pops" version on disc 2, which Universal calls "something of a holy grail." (Universal is pressing a 7-inch single as well.)
The "T. Rex" album opens and closes with snippets of "The Children of Rarn," which was part of a suite never finished in Bolan's lifetime. The children's suite, completed from a demo by producer Tony Visconti, opens disc 2 of the new "T. Rex," to the tune of 15-plus minutes.
"T. Rex" introduced strings to Bolan's act ("Diamond Meadows," "Beltane Walk") and found the electric guitar more organically integrated ("Root of Star"). A pair of numbers were revived from earlier Bolan efforts, including a psychedelicized version of his mid-'60s "The Wizard." Glam star Bolan begins to emerge on the blistering side 2 opener, "Is It Love?"
Disc 2 works in a trio of unreleased home demos and 14 alternate takes from the original recording sessions at Trident Studios (London) the summer of 1970.
Liner notes on both sets are by Mark Paytress, author of "Bolan: The Rise & Fall of a 20th Century Superstar."
Universal says the two CD sets "follow on from the critical and commercial success of 2012's 40th anniversary edition of 'Electric Warrior' and 2013's 'Marc Bolan at the BBC' box set."
For fans of Bolan's glam-rock period, also in March, Demon Music has a deluxe packaging of "Tanx" (1973) and "Zinc Alloy and the Hidden Riders of Tomorrow" (1974). Five discs including a DVD, as well as a hardback book.
Most of Bolan's work has been rereleased repeatedly, including these two transitional albums. These appear to be the definitive releases of "Beard of Stars" and "T. Rex," however.