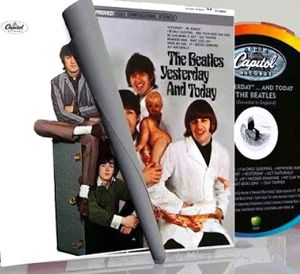 The new year brings new collections starring the Beatles, T. Rex, the Doors, the Small Faces and, of course, the good old Grateful Dead. And there's word of a long-awaited audiophile release of a psychedelic masterpiece.
Apple continues to rework the Beatles catalog, this time with a rerelease of the U.S. albums on Capitol. These albums still have their Baby Boomer fans, of course, but collectors offer a collective shrug at "The U.S. Albums" box set, as the discs reportedly offer little more than a shuffling of the remastered music from 2009.
So no love for the Capitol engineers who sought to "Americanize" the lads' sounds with washes of reverb and bullshit Duophonic stereo. For the most part, you'll get the latest official U.K. versions of the songs, fashioned into what were effectively Capitol executives' mix tapes. (Owners of "The Capitol Albums Vol. 1 & 2" from 2004-2006, hang on to your sets.)
In some cases, the unique U.S. mixes are being used, apparently, along with some interesting artifacts, such as the false start on "I'm Looking Through You." We'll see.
One album being sold separately has quite a history: The U.S.-only "Yesterday and Today" with its shock-art butcher-block cover. The rerelease embraces the controversy, with a "peel off" cover featuring the Fabs decorated with bloody meat and doll parts.
Cover art aside, "Yesterday and Today" is the most interesting of the Stateside-only albums. In the summer of 1966, it fell in between the Beatles' "pot album" "Rubber Soul" and the acid-tinged "Revolver."
Several songs featured psychedelic music experimentation and drug-culture overtones. "I'm Only Sleeping" rolls with a scratch-and-nod vibe and backwards guitar. "Doctor Robert" sings the praises of one or several real-life Doctor Feelgoods who kept clients grooving on speed, acid, whatever. It was one of the first major label songs clearly about dope. "And Your Bird Can Sing" with its dizzying duo-guitar buzz is reminiscent of "Eight Miles High." The hit single "Day Tripper" engages in wordplay about drugs and weekend hippies.
"The U.S. Albums" CD box set debuts Jan. 21. via Apple Corps Ltd./Capitol. Individual albums will be available "for a limited time."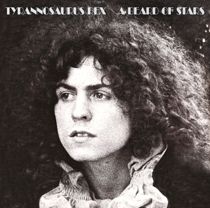 Mark Bolan's psychedelically tinged albums from 1970 are getting the Deluxe Edition treatment from Universal Music: "Beard of Stars" and "T. Rex." Both of the albums return as double-disc sets (CDs or vinyl), remastered and with scads of bonus tracks — demos, live tracks, alternate takes. "Stars" was the last Tyrannosaurus Rex album — he switched to the shorter T. Rex name for the band from there on. The albums also marked the debut of bongo man Mickey Finn, who stayed with guitarist Bolan for five years.
The albums came midway between Bolan's acoustic faerie fantasies and his hitmaking electric boogie, the transitional experimentation resulting in some of the strangest and most interesting music of his brief career. Uni Music also is releasing a pair of 7-inch singles: "By the Light of the Magical Moon" and "Ride a White Swan." Read more about the new Marc Bolan imports, due March 3.
The Doors fans get to hear a swarm of 5.1 audio versions of the band's TV and music video appearances on the Blu-ray "R-Evolution," coming Jan. 21. The remixing was done by the psychedelic stars' longtime audio guru, Bruce Botnick. The deluxe Blu-ray edition offers a 40-page "DVD sized" hard-back book, streeting for about $45. The basic Blu-ray (no book) should run you less than $14. From Eagle Rock Entertainment. Read more about the Doors' "R-Evolution" Blu-ray set.
Love's "Forever Changes": Mobile Fidelity continues to marry late-1960s goodness and audiophile excellence. The most eye-popping of the reissue label's "to be announced" titles on hybrid SACD is "Forever Changes," considered by many the peak album of the psychedelic era. (TBA = Probably in a couple of months.) Mobile Fidelity last fall rereleased the Arthur Lee band's second album, "Da Capo," on SACD, "from the original master tapes." While "Forever Changes" has seen many careful reissues, this appears to be the first as a hybrid SACD. No extra tracks, apparently. (Below: See more below about Mobile Fidelity's ambitious slate of releases from the Dead, Santana and Miles Davis.)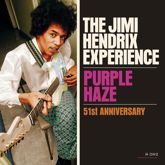 The Jimi Hendrix Experience's "Purple Haze" drifts back as a 7-inch (vinyl) single from Sundazed. The flip side is, a bit prematurely, "51st Anniversary." The 45 rpm disc is in mono, available by Feb. 18.
Dr. John the Night Tripper — just Dr. John these days — released "Gris-Gris" in 1968, conjuring up "voodoo psychedelia" in an L.A. recording studio reserved for Sonny & Cher. Real Gone Music resurrects the album March 4 on CD. Key track "I Walk on Guilded Splinters" cracks the top 20 of this site's top psychedelic songs.
The Pretty Things' psychedelic "SF Sorrow" of 1968 paved the way for many a rock opera; here in 2014 it gets a revival on vinyl with the "die-cut 'tombstone' sleeve" from the original U.S. release that no one bought (Rare Earth Records). From the Madfish label (import) on Feb. 3.
The Who's "Tommy," the most famous of those post-"SF" rock operas, enjoyed a massive CD rerelease in November; now comes a 180 gram vinyl version from Geffen. The chestnut comes "mastered by Kevin Gray, pressed at Quality Record Pressings, and presented in its original LP configuration." Out March 3.
The Small Faces' big box set "Here Comes the Nice: The Immediate Years Box Set, 1967-1969" is due Jan. 27 in an edition limited to 3,000 copies. These sets are "personally signed" by Kennedy Jones and Ian McLagan, the surviving members of the quartet who "supervised and curated" the project.
The Velvet Underground's "hits" emerged over the years (if at all), but that didn't stop MGM from putting out a best-of in 1970. Sundazed revives the collector's item — dubbed "Velvet Underground" — of MGM/Verve tracks on vinyl and CD. "From the original master tapes, with new liner notes by Rolling Stone's David Fricke." Jan. 21 release.
Undistilled Velvets: "White Light/White Heat" burns its way onto Blu-ray "Pure Audio" on Feb. 11 via Polydor (Universal import). 2.0 DTS, Dolby TruHD and PCM formats.
Wendy & Bonnie also feel the warmth of Sundazed on Jan. 21. Who? Ask Stereolab or Super Furry Animals, the label says. They're San Francisco teens Wendy and Bonnie Flower, brought into the studio in 1969 by jazzman Cal Tjader. The soft-psych "Genesis" (previously on Sundazed CDs) begins again on the vinyl format.
The Moody Blues' "Long Distance Voyager" arrives on an SHM SACD from the group's Threshold label March 26. The Moody Blues' 10th album dates back to 1981, featuring "Gemini Dream."
Jon Anderson's solo work "Olias of Sunhillow" treks back on hybrid SACD with DSD on Jan 21. The "mystical" and "cinematic" concept album — about an alien race escaping its dying planet — was played and sang almost exclusively by Anderson using synthesizers, tape loops, ethnic instruments and sound effects. "If you go to do a solo album you should be by yourself," he said recently. "That's what I was thinking." The 1976 release comes numbered and limited from Audio Fidelity. Fantasy package art by David Fairbrother Roe.
Yes' 1969 debut album returns in a 45th anniversary edition from Friday Music. The 180 gram vinyl rerelease is due March 18.
Mike Oldfield serves up "Man on the Rocks," his first album in a half decade. The Virgin EMI recording, due March 3 (delayed), comes in various formats, including a box set and colored vinyl. It's described as "deeply personal song-based album" from the multi-instrumentalist.
Todd Rundgren's "A Wizard, a True Star" buzzes back on 180 gram vinyl March 18, from Friday Music. The rerelease is spread over two discs. Friday recently has revisited a handful of classic Rundgren LPs, including "Todd." "Wizard" ranks No. 9 on this web site's list of top psychedelic albums.
Emerson, Lake & Palmer bring back "Trilogy," their third LP, via Razor and Tie on Jan 28. Greg Lake, who contributes "From the Beginning," says it's his favorite EL&P work. From the summer of 1972. Vinyl.
Also from prog land via the Burning Shed label come a rerelease of Caravan's 1970 "If I'd Do It All Again, I'd Do It All Over You on 180 gram vinyl "cut from the original analogue masters," Jan. 20; The Crimson ProjeKCt "Live in Tokyo" featuring Tony Levin, Adrian Belew and Pat Mastelotto playing King Crimson repertoire from the early 1980s to the mid-'90s. On CD, March 3.
The Grateful Dead's "Birth of the Dead" series continues via Friday Music, with "Volume 2: The Live Sides" on 180 gram vinyl. Tracks include "Pain in My Heart," "One Kind Favor" and "He Was a Friend of Mine." Two discs, out Feb. 25.
Also on the Grateful Dead front, "Dick's Picks Vol. 20" returns via Real Gone Music. September 1976 shows in Maryland and upstate New York featuring the return of Mickey Hart. Four-CD set out Feb. 4.
And the Dead's subscription series has "Dave's Picks Vol. 9" for Feb. 1 release, with the band shaking up the University of Montana in Missoula, May 1974. The "monstrously hot show" features a 21-minute "Playing in the Band" and a lovely "Weather Report Suite."
"Miles at the Fillmore — Miles Davis 1970: The Bootleg Series Vol. 3″ captures the jazz god at Bill Graham's eastern digs, just after the release of "Bitches Brew." The four-CD set from Sony/Legacy touches down March 25. Read more about the psychedelic Miles Davis box set.
Funkadelic's 1978 release of "One Nation Under a Groove" glides back in style with a double-disc edition. Includes four songs from the original release's bonus EP, including a 7-minute version of the psychedelic classic "Maggot Brain," but not the extended "One Nation" title song. On CD or vinyl. Due March 10 as an import from Burning Shed.
Michael Bloomfield, the guitar genius behind the Electric Flag, gets an overdue retrospective via the box set "From His Head to His Heart to His Hands," out Feb. 4 on CD. The Sony Legacy project includes a DVD documentary. Tracks include the raga-rock classic "East/West," "Killing Floor," "His Holy Modal Majesty" and an instrumental "Like a Rolling Stone" with Bob Dylan.
Also on the Michael Bloomfield front, Audio Fidelity skeds an SACD of the "East-West" album from the Butterfield Blues Band on March 18. The 13-plus minute "East-West" — 13-plus minutes of guitar nirvana — sits high on the list of the site's best psychedelic songs.
Lightnin Hopkins saw "Free Form Patterns" in 1968 with the help of Thirteenth Floor Elevators rhythm section Danny Thomas and Duke Davis. Charly Records has put together "a coherent combination of songs, studio chatter and candid conversations" in a three-CD box set. Out March 24.
Brotherhood, long forgotten except as an aside to the Paul Revere and the Raiders story, returns via Real Gone Records. "Brotherhood: The Complete Recordings" includes the three albums made by the trio at the center of the Raiders — bassist Phil "Fang" Volk, guitarist Drake Levin and Drummer Mike Smith.
Brotherhood's three albums, released in 1968 and 1969, include excursions into psychedelic/experimental rock, some made under the influence of acid and some under the influence of Frank Zappa. The band's music has been MIA for more than 40 years. Due Feb. 4 in a 2-CD set.
"Troyka": Also from the fringes (and Real Gone) comes the self-titled album from 1970. The Edmonton, Alberta, prog-ish band included psychedelic rock, Ukrainian music and "Polish spoken-word bits" in its mix. The label calls this "the first legitimate reissue." Feb. 4. Here's a Troyka song on YouTube.
Cream's SHM SACD versions of "Fresh Cream" and "Wheels of Fire" surfaced in the U.S. (Acoustic Sounds) in late January.
Also of interest — Shawn Phillips' "Furthermore" on CD (Talking Elephant, Feb. 24), Smith: "A Band Called Smith" and "Minus-Plus," CD with L.A. group's two albums (Real Gone, Feb. 4); The 12-track "The Best of Sonny & Cher" on vinyl (Friday Music, Feb. 11); The Mamas and the Papas: revival of the "A Gathering of Flowers" anthology, remastered and debuting on CD (Real Gone, Feb. 4); "Toomorrow" sci-fi film soundtrack (Real Gone, Feb. 4); Santana's "Borboletta" on vinyl (Friday Music, Jan. 28); and the Alan Parsons Project's "The Complete Albums Collection" (Sony, March 31).
Roger Waters' "Amused to Death" now has a release date of Sept. 23 for the 200 gram vinyl and hybrid SACD.
To be announced: From the magical and mythical island of TBA come "Workingman's Dead" and "American Beauty" on 45 rpm vinyl and on hybrid SACDs; "Bitches Brew" from Miles Davis on SACD and 180 gram vinyl; "Santana" debut and "Abraxas" on SACD and 45 rpm vinyl; "Santana III" on vinyl; "Highway 61 Revisited" by Bob Dylan on 45 rpm vinyl (all from Mobile Fidelity and all TBA).
More TBA releases: Cream's "Wheels of Fire" and "Disraeli Gears" on 180 gram vinyl (Universal/Back to Black); "Weather Report" debut LP on 45 rpm vinyl (Original Music); Nick Drake "Five Leaves Left" on Blu-Ray "Pure Audio" import (Universal); Caravan "For Girls Who Grow Plump in the Night" and Camel's "Rain Dances" on SHM SACD (Island).
Note: Release dates for vinyl and SACD titles remain fluid until they actually ship. This record roundup will be updated through the quarter. SACDs are all hybrids unless specified otherwise; they work on a CD player but not in advanced resolution.
More 1960s/psychedelic music releases: