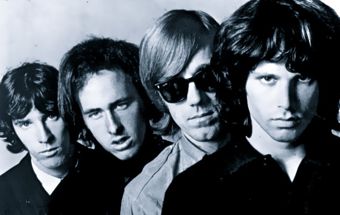 The Doors' "R-Evolution" video collection surfaces Jan. 21 in the U.S., unspooling on Blu-ray and DVD. Audio is in 5.1 surround, "remixed and mastered" by the L.A. group's faithful engineer Bruce Botnick.
The deluxe Blu-ray edition offers a 40-page "DVD sized" hard-back book, streeting for about $45. The basic Blu-ray (no book) should run you less than $14.
The Doors collection includes band music videos and vintage TV appearances — notably appearances on the Smothers Brothers, Jonathan Winters and American Bandstand.
Rareities include a color "Hello I Love You" from German TV (September 1968), outtakes from "Malibu U." (August 1967) and a "Crawling King Snake" from Australia (March 1971).
The videos range from your basic lip-synching network gigs to the band's psychedelic music videos, such as the hyper-cool "L.A. Woman" directed by keyboardist Ray Manzarek in 1985.
" 'R-Evolution' shows the growth of the Doors from being forced to accept the formulaic television approach to taking control of the medium," label Eagle Rock Entertainment says in explaining the collection's title.
"Special features" include a vintage Ford training film using Doors' music, a "Break On Through" performance from the Isle of Wight pop fest (1970) and a 45-minute documentary called "Breaking Through the Lens."
The three band members who were alive when "R-Evolution" came together comment on the videos via picture-in-picture, and in the documentary. Elektra Records founder Jac Holzman and soundman Botnick also chime in.
The single-disc editions run 154 minutes with an aspect ratio of mostly 1.78:1.
"R-Evolution" was released in Europe before the holidays. Those Region B/2 Blu-rays will play in machines bought in the U.S., but there appears to be no reason to seek out the imports. (Amazon is selling both the 2013 and 2014 sets.)
More Doors content:
---
The Doors shop
(Our picks from Amazon's stash)