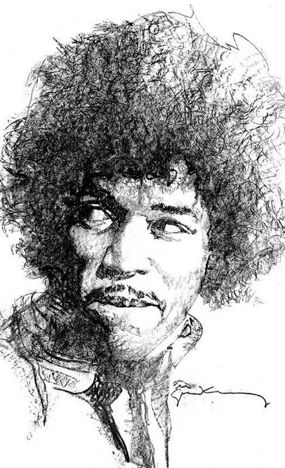 It would seem the laziest form of biography: String together a decade's worth of quotations, writings, diary entries, doped-up musings — and call it a book.
That's what Alan Douglas and Peter Neal did in "Jimi Hendrix: Starting at Zero." Yet, somehow, what results is a fascinating self-portrait, the closest we'll get to an autobiography of the psychedelic guitar revolutionary. The book originally was titled "Room Full of Mirrors," a telling description.
Presented chronologically, "Starting at Zero" begins with the familiar boyhood stories out of Seattle: "School was nothing for me. … Jesus! I couldn't stand it at home."
It ends shortly before his death, with the fateful quote: "When I die, just keep on playing the records."
Sure enough, here almost a half century after the bow of "Are You Experienced," the records play on and on. Interest in Hendrix never died. This book will serve admirers new and experienced alike — although some familiarity with the the guitarist's life comes in handy. While "Starting at Zero" breaks no new ground, it is at its best a surprisingly cohesive and dramatic read.
The book has its sorrowful ironies and cautionary notes. Hendrix's voice is clear and optimistic in the first half of the book — a sunny portrait of an artist as a young man. Seemingly a fellow you'd like to know, a regular guy dealing with the onset of fame and the oddities of the touring life.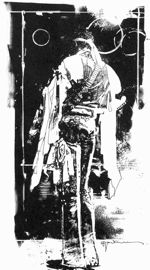 Later on — flashing here on the cats of Louis Wain — the toll of fame and drugs become apparent. Hendrix talks like a numb psychedelic guru — "I am electric religion" — less coherent and less likable than the young man we got to know.
Those seeking to mourn a lost masterpiece of psychedelic music — the unfinished "First Rays Of The New Rising Sun" won't find much support here. Ultimately, Hendrix seems lost without producer Chas Chandler: "I'm so tired of everything. I lose myself, I can't play anymore."
Hendrix, not surprisingly, likes to talk music. "I cry sometimes when I hear Otis Redding's stuff." He's a fan of the Electric Flag and Jefferson Airplane. Freddie King, Albert Collins, even Roland Kirk. But most of all, he admires Bob Dylan for his songwriting. "Dylan is giving me inspiration," says the cover artist of "All Along the Watchtower." "Not that I want to sound like him — I just want to sound like Jimi Hendrix."
Of the reigning English rock gods, his new friends, he says:
The Beatles and the Stones are such beautiful cats off-record, but it's a family thing, such a family thing, that sometimes it all begins to sound alike. Sometimes you don't want to be part of the family. I believe soon all the English records will sound like, just like Motown all sound alike.
He speaks repeatedly of the Jimi Hendrix Experience as an equal-partners band; even wanted to remove his name from the moniker. Hendrix is especially respectful of drummer Mitch Mitchell, who brought a jazz vibe to the psychedelic music group.
"We don't believe in rehearsing. Rehearsals are only to see how the amplifiers sound or something technical like that. We don't want to plan our music. It should be a surprise, for us as well as the audience."
Later on, as the constraints of pop stardom set in, he complains of playing the hits for audiences that want stunts "more than the music."
"I don't want anybody to stick a psychedelic label around my neck. … "
"A couple of years ago all I wanted out of life was to be heard. Now I'm trying to figure out the wisest way to be heard. I don't want to be a clown anymore. I don't want to be a rock and roll star."
"Jimi Hendrix: Starting at Zero," published by Bloomsbury, is a handsome if unspectacular production. The best graphic work comes from the typographer, who adds psychedelic touches to the accompanying lyrics and some of the key quotes. Instead of the usual rock-bio photos, we get emotional black-and-white illustrations by Bill Sienkiewicz that feel a lot like fan art.
Author Douglas was a friend of Hendix and a record producer. He remains a controversial figure in Hendrix circles, owing to liberties taken during production work on the posthumous releases "Crash Landing" and "Midnight Lightning." Co-author Neal made the short film "Experience" in 1968.
Neal and Douglas collaborated on a full-length documentary film as well, like the book initially titled "Room Full of Mirrors." The two projects date back to 1990, but legal hassles dragged on for almost 20 years. "Both the film and the book are completed and sanctioned, and the Hendrix film will be released under the same title in spring 2014," the book's publicity materials say.
Those seeking a more traditional biography of Jimi Hendrix would do well to seek out 2005's "Room Full of Mirrors: A Biography of Jimi Hendrix"
by Charles R. Cross.
Check out Glenn Abel on Google+
---
Jimi Hendrix store
(Primo picks from Amazon's stash)