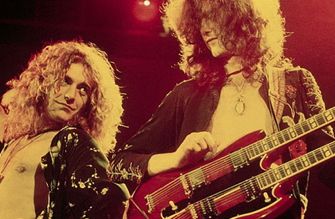 Streaming audio holdout Led Zeppelin has landed on Spotify, joining fellow British heavies Pink Floyd.
The albums are being rolled out between Dec. 11 and Dec. 15, starting with "Led Zeppelin" and "Led Zeppelin II," both released in 1969 and featuring the band's most psychedelic material.
All of the nine studio albums will be up by Dec. 14, followed by five live and odds-and-sods projects such as "Celebration Day" on Dec. 15.
Led Zeppelin reportedly had been shopping its Warner Bros./Swan Song catalog to streaming music services Spotify, Rdio and Rhapsody. Its music appeared, belatedly, on iTunes in 2007. The Beatles remain out of the streaming game, but the Fabs albums have been sold on iTunes since 2010.
Guitarist Jimmy Page hasn't been a big fan of digital music, however. The group's music "sounds ridiculous on MP3," he told Rolling Stone last year. "You can't hear what's there properly." The catalog last was reworked in the early 1990s for a four-CD box set.
Page has been doing an extensive remastering of Led Zeppelin's catalog, with no release date in sight. Page said there wasn't much in the way of unreleased songs, but there were "different versions of things, different approaches to the mixes."
"There will be one box set per album with extra music that will surface," Page told Mojo.
The band's manager said earlier in the year that the work could surface in 2013, but "in the world of Led Zeppelin, time is a fungible thing."
Earlier this fall, singer Robert Plant said he'd found some "very, very interesting bits and pieces" recorded by the band, including songs sung by bassist John Paul Jones.
Meanwhile, Page unleashed a tasty mashup of the band's "Ramble On" with rapping by the Notorious Big. It had been available on Page's web site, but now appears on SoundCloud.
The Led Zeppelin albums available on Spotify are the official streaming releases, of course, but the full albums long have been available on YouTube, posted by fans and apparently tolerated by the band and its distributor. Led Zeppelin also can be heard on Internet radio "stations" such as Pandora, which are prohibited by copyright law from playing serial tracks by any artist.
Non-subscribers to Spotify will hear the occasional ad spot, mostly PSAs.
The Spotify deal is exclusive, at least for now.
Here's the Spotify rollout schedule:
Wednesday, Dec. 11: Led Zeppelin (1969) and Led Zeppelin II (1969)
Thursday, Dec. 12: Led Zeppelin III (1970) and Untitled fourth album (1971)
Friday, Dec. 13: Houses Of The Holy (1973) and Physical Graffiti (1975)
Saturday, Dec. 14: Presence (1976) and In Through the Out Door (1979)
Sunday, Dec. 15: The Song Remains The Same (1976), Coda (1982), BBC Sessions (1997), How The West Was Won (2003), Mothership (2007), and Celebration Day (2012)
Spotify did a binge release of the Pink Floyd catalog last summer, but required the fan base to stream a song 1 million times before doing so. The veteran British psychedelic band also has a channel on SiriusXM.
Founding Led Zeppelin members Page, Plant and Jones — along with Jason Bonham, the son of their late drummer John Bonham — last played in 2007 as headliners at a tribute concert for Atlantic Records chieftain Ahmet Ertegun.
Led Zeppelin often finds itself classified as heavy metal, but its sound ranged from psychedelic rock ("Dazed and Confused"), alt-folk ("Gallows Pole") to amped-up world music ("Kashmir"). The band was inducted into the Rock and Roll Hall of Fame the first year it was eligible, and was honored by the Kennedy Center last year.