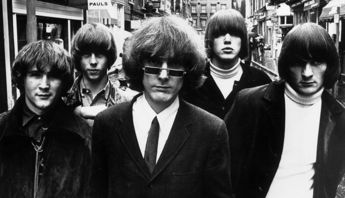 The song started off on familiar footing for early 1966: a killer bass line, straight out of the garage. But seconds into the Byrds' "Eight Miles High," listeners were off on a sonic adventure, destination unknown.
Change was coming to the music scene at supersonic speeds. Here was the early warning, blaring out of AM radios. This at a time when "psychedelic music" was mostly a rumor.
"Eight Miles High" seemed to come out of nowhere — as did so much great 1960s music — but in retrospect there's a clear lineage: The cluttered, borderline dissonant instrumental sections were unprecedented in rock & roll, but not in jazz, where artists such as John Coltrane and Ornette Coleman shunned traditional harmonic structure in favor of free-form heroics.
The Byrds made much of "Eight Miles High's" primary inspiration, the song "India" from Coltrane's "Impressions" album (listen for the lick about two minutes in). Group guitarist Jim (Roger) McGuinn, gobsmacked by Coltrane's "forceful, rebellious attitude," imitated the saxophone visionary's solos via a compressed and distorted 12-string Rickenbacker.
At the same time, McGuinn incorporated sitar-like riffs into his playing, inspired by the music of India's Ravi Shankar and no doubt encouraged by the success of the Beatles' recent "Norwegian Wood." (McGuinn's experimentation with this Coltrane-Shankar fusion is heard on the scattered psychedelic tracks found on the Byrds' subsequent album, the great patchwork "Fifth Dimension.")
The music press scratched their heads and dubbed it "raga rock."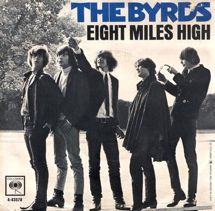 As startling as the music of "Eight Miles High" was — the critic David Fricke finds in it a "cliffhanging quality of unresolved medlodic drama" — some of the song's elements were familiar to the vast AM audience: that throbbing bass line by Chris Hillman; the Byrds' folk-rock harmonies; David Crosby's driving rhythm guitar.
And the shadowy impressionistic lyrics were nothing new to anyone who'd absorbed Dylan's year-old "Highway 61 Revisited." (The Byrds being on an osmosis basis with Dylan, of course.)
But the careful listener probably had a few questions about this "Eight Miles High":
Did they forget the chorus? Why are the instrumental passages so chaotic? Is that a sitar or a guitar or what? Where is this "rain-gray town, known for its sound" with "small faces unbound"? Why is the ending such a meltdown?
Still, "Eight Miles High" made for an irresistibly kinetic single, about the Byrds' 1965 trip to London. It quickly was labeled a drug song — in fact, many consider it the first psychedelic rock song as it was recorded roughly six months before the Yardbirds' "Happenings Ten Years Time Ago."
Band members protested when some radio stations banned it, saying the title reference was to their jet ride across the Atlantic. Few fans or critics bought the explanation. Years later, Crosby and other band members admitted the drug connection, but no one much cared. "Eight Miles High" long had been institutionalized in the history of rock music.
The writing of "Eight Miles High" usually is credited to Gene Clark, who, ironically, left the Byrds in part because of fear of flying. Aviation buffs McGuinn and Crosby (who received official credit for the song as well) were left to carry on.
Clark complained of the drug-lyrics debate: "A piece of poetry of that nature is not limited to having it have to be just about airplanes or having it have to be just about drugs. It was inclusive …"
McGuinn and another lineup of the Byrds would continue their explorations of "Eight Miles High" a few years later, with 20-minute live versions of the psychedelic song a highlight of their hippie-era concerts.
All of the original Byrds worked the song into their repertoires after the group disbanded, notably Clark and McGuinn. Clark died in 1991.
"Eight Miles High" was inducted into the Grammy Hall of Fame in 1999, alongside its cousin "East-West" by the Paul Butterfield Blues Band, another psychedelic classic that clearly classifies under raga rock.
Liner notes: There exist two studio recordings of "Eight Miles High" by the original Byrds. The first made at RCA just before Christmas 1965, but the Byrds' label, Columbia, refused to handle a recording made by a rival. Crosby has said he prefers this earlier version. It can be found as a bonus track on "Fifth Dimension" CDs. … "Eight Miles High" never lost its hip cachet. The song has been covered countless times, perhaps most powerfully by Hüsker Dü in 1984. … "Fifth Dimension" ranks No. 19 on the list of greatest psychedelic albums.