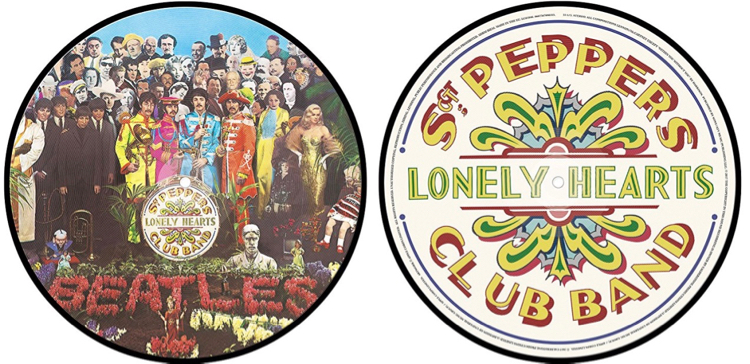 It's December: The rotund fellow in cranberry red prepares to make his rounds, sled laden with gifts. That psychedelic gleam in his eyes reflects the age-old mystery of just what's in that pipe he tokes.
Fortunately, we know what's in the pipeline for fans of psychedelic music. Read on for a list of box sets and expanded editions with release dates in the year's final quarter. All titles have that something special — no bare-bones CDs here — every one perfect for gifting or just grabbing.
The Beatles' "Sgt. Pepper's Lonely Hearts Club Band" got a new coat of aural paint midyear with Giles Martin's controversial remix of the classic psychedelic music album. The expanded CD versions included well-received alternate takes and assorted studio bits. Now comes a straightforward vinyl release with the new stereo mix — one LP, just as you remember it … only with a twist. Martin has said his goal was to be true to the spirit of the mono "Sgt. Pepper," only this time in stereo. 180-gram black vinyl. Due Dec. 15 from Apple Records/Capitol. Also available same day as a limited picture disc on vinyl (pictured, top of page).
More Beatles: The Fabs' Christmas connection was strengthened annually by recorded messages to their fan club members. From 1963 through 1969, the lads did their best "Goon Show" imitations on for-the-moment flexi-discs. Apple Corps' "The Christmas Box" remembers the days on seven 45 rpm records in "a rainbow" of colors. Disc 5 includes the tune "Christmas Time (Is Here Again)." Sixteen-page booklet reprints fan club newsletters. First wide release for the material. No CD, sorry. Due Dec. 15, via Apple/Capitol.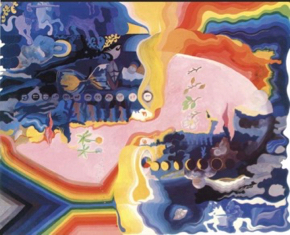 The Moody Blues celebrate a half-century of "Days of Future Passed" with a double CD & DVD edition. Includes the original 1967 stereo mix (MIA since the early 1970s) and the 5.1 surround mix created using the 1972 quadraphonic tapes. Video has the band performing the tracks live in January 1968. An LP version also uses the 1967 stereo mix. Alternate and live (BBC) audio tracks last heard on 2006 deluxe edition. Box set released Nov. 17 on Polydor.
The Rolling Stones got live if you still want it, with a batch of early live performances on the double-CD set "On Air." The BBC radio sessions date back to 1963 through 1965, with the focus on covers of American blues and R&B songs. Key tracks include "The Spider and the Fly," "Mona," "Little By Little," "Carol" and "I Can't Be Satisfied." Audio remixed and reimagined at Abbey Road. Also 18-track versions on single CDs or two LPs. Companion book and DVD, available separately. Due Dec. 1 from Interscope.
The Doors' "Strange Days" has returned in a 50th anniversary anniversary edition. The two-CD set includes remastered versions of the original stereo and mono mixes, each taking up a single disc. The mono version debuts on CD and also is offered on a single LP. "Strange Days" was the L.A. band's second (and final) psychedelic album, featuring tracks such as "Moonlight Drive," "When the Music's Over" and "People Are Strange." No bonus tracks. Released Nov. 17 by Rhino. Also SHM import from Japan.
King Crimson: Too much but never enough for the prog warriors. Find three Crimson collections for year's end. The "Sailors' Tales" box set features the 1970-72 edition of the band, packing in 21 CDs, four Blu-rays and a pair of DVDs — all audio content. Steven Wilson studio remixes for "The Wake of Poseidon," "Lizard" and "Islands" in stereo and in 5.1. Live recordings, auditions, "newly discovered" concerts. "A wealth of previously unheard studio recordings." Released Nov. 17. "Official Bootleg: Live in Chicago, June 28th, 2017" captures the current three-drummer lineup on two CDs. Career-spanning setlist. Released Oct. 27. "Earthbound: 40th Anniversary Edition" comes via a CD and DVD (audio). Expanded 12 track version of the original five track album. DVD features high-res version of expanded album and the Summit Studios performance in stereo and quad. Out Nov. 17. All Dgm (import).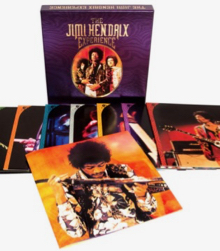 The Jimi Hendrix Experience's so-called Purple Box set has been rereleased on vinyl in Europe and is available as an import. Eight discs, with recordings in chronological order. Features more than 50 previously unreleased or "unavailable" studio and live recordings from the psychedelic heyday of 1966-1970. Set first released in 2000. Vinyl version released in Europe on Oct. 27 via Sony.
The Who's "Maximum As & Bs: The Complete Singles" made its debut on CD in late October. Includes early hits such as "I Can't Explain" and "Anyway, Anyhow, Anywhere" through "Eminence Front" — and lesser-known B sides such as "The Ox" and "Dogs." Eighty-six tracks across five CDs. (Set previously released on vinyl.) Universal.
Yes' "Topographic Drama: Live Across America" highlights performances from the prog band's 2017 tour of material from the "Drama" album (1980) and "Tales From Topographic Oceans" (1973). New album art by Roger Dean. Double CD and three-disc LP set (gatefold). Released Nov. 24.
Atomic Rooster is resurrected with the four-CD collection "Sleeping for Years — The Studio Recordings: 1970-1974." British band was founded by keyboardist Vincent Crane and drummer Carl Palmer as the Crazy World of Arthur Brown collapsed — although the Atomic Rooster lineup churned throughout the band's short life. Remastered with alternate tracks and demos. Import. Dec. 1 via Esoteric Records.
Pink Floyd's live epic "Delicate Sound of Thunder" returns on vinyl on a two-LP set. Recorded during the stand in Long Island in August 1988. "Remastered from the analogue studio tapes." Key tracks include "Shine On You Crazy Diamond," "Time" and "Comfortably Numb." Released Nov. 17 via Sony Legacy.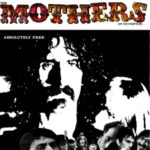 The Mothers of Invention's "Absolutely Free" turns 50 with a double-LP set. "Original record mastered by Bernie Grundman and cut directly from the original analog master tapes." Second disc has bonus tracks and "D side" with laser-etched portrait of Frank Zappa. Reproduction of the "libretto," an 18-page booklet. Out Oct. 6 via Zappa Records.
Frank Zappa loved his Halloweens. Witness the weirdness with "Halloween 77," recorded live during the six-show stand at the Palladium in NYC. Includes entire Oct. 31 show. "Mixed in 2016 from original vault masters." Key tracks include "Peaches en Regalia," "King Kong and "Big Leg Emma." Three CDs; Oct. 20 via Zappa Records.
Emerson, Lake & Palmer are remembered with a 22-disc set "Fanfare: 1970-2010." Remastered 11 classic original ELP albums (1970-'94) on CD. Audio Blu-ray with 5.1 mixes. Live tracks. Remastered singles. Many goodies. Import. Released Nov. 10 via BMG.
Jeff Beck released "Truth" in the summer 1968, with a band fronted by emerging singer Rod Stewart. Audio Fidelity revives the minor rock classic on a sterling SACD. Psychedelic tracks include the swirling remake of "Shapes of Things" and the instrumental "Beck's Bolero." Standouts among the covers are "Morning Dew" and "I Ain't Superstitious." Started shipping in early December. Also, "Live at the Hollywood Bowl" (three LPs and DVD, Eagle Rock).
The Yardbirds' last-gasp live recording of 1968 has made a comeback. "Yardbirds '68" contains the NYC Anderson Theatre recordings of late March 1968. Also eight "studio sketches" from the period. The new 18-track album was produced by Jimmy Page. Live songs are highlighted by "Dazed and Confused" and Page's guitar instrumental showcase "White Summer." Other live tracks include "Train Kept A Rollin,'" "Over Under Sideways Down" and an expanded "I'm a Man." Listener feedback has been positive but some miss the edited-out stage banter. Released Nov. 24 via Jimmy Page Music. Read more about the live Yardbirds release.
The Residents turn and face the strange on a trio of reissues: "Intermission," "Please Do Not Steal It" and the expanded EP "Diskomo/Goosebump." All on colored vinyl. Out Nov. 3 via Music on Vinyl.
Various artists: "Looking at Pictures in the Sky: The British Psychedelic Sounds of 1968." Three CDs with 78 tracks from the likes of the Factory, Mike Stuart Span and Fleur de Lys. Reissue "with new artwork and revised tracklisting." Import. Nov. 10 via Cherry Red.
Also of interest: "Bridge of Sighs" by Robin Trower (vinyl, Dec. 8) … "The Allan Holdsworth Solo Album Collection" (12 LPs, Dec. 1) … "The Lost Tapes" from Can (five-LP box set, release TBA) … "John Carpenter Anthology: Movie Themes 1974-1988" (vinyl) … "Brown Acid: The Fifth Trip" from various artists (CD, vinyl, Oct. 31) … "Seven" by Soft Machine (vinyl, Oct. 6) … "Collected" by the Velvet Underground (vinyl, Oct. 27).