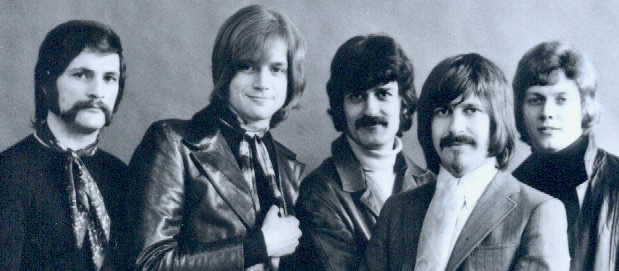 Psychedelic classicists the Moody Blues have made the short list for the Rock and Roll Hall of Fame.
This is the first nomination for the long-running English band, first eligible for the Hall way back in 1989. The Rock Hall's lack of recognition for the Moody Blues had long been perceived as a snub similar to those of leading progressive rock acts Yes (inducted in 2017) and King Crimson.
Also making the list for 2018 were the Zombies, whose "Odessey and Oracle" is considered a landmark album of the psychedelic music era. This is the third nomination for that British band, best known for the hits "She's Not There," "Tell Her No" and "Time of the Season."
Update: The Moody Blues made the cut and will be honored in April. The Zombies did not. /update.
Other acts of interest among the 19 nominees include the Detroit radical combo MC5 ("Kick Out the Jams") and British art rocker Kate Bush.
The Moody Blues first found fame as an R&B-influenced pop group, hitting with the bittersweet "Go Now." In the psychedelic era, the band transitioned into a seminal progressive act drawing on symphonic music, the then-novel sounds of the mellotron and the mid-1960s fascination with Eastern philosophies. Its sound was lush; the lyrics knowing and often whimsical.
The band's influential concept albums include "Days of Future Passed" (1967), "In Search of the Lost Chord" (1968) and "A Question of Balance" (1970). Despite their length and psychedelic veneer, radio took to singles such as "Nights in White Satin," "Question" and "Tuesday Afternoon."
The Rock Hall's longtime dismissal of the Moody Blues continued a history of critical negativity toward the band, whose works were sometimes derided as pretentious and overblown. This despite its history as a seminal prog act that was among the first to incorporate synthesizers into rock.
The critical broadsides never seemed to hurt the outfit's popularity, and the Moody Blues continue to tour after a half century.
Greg Harris, CEO of the Rock Hall, told USA Today that "the passion that fans have for the Moody Blues is pretty remarkable."
A 50th anniversary multidisc rerelease of the group's second album, "Days of Future Passed," is set for Nov. 17. It includes the original 1967 stereo mix of the album, which had been damaged and has never been heard on CD.
The eclectic 2018 Rock and Roll Hall of Fame nominees list released Oct. 5 also features Bon Jovi, the Cars, Depeche Mode, Dire Straits, Eurythmics, the J. Geils Band, Judas Priest, LL Cool J, the Meters, Radiohead, Rage Against the Machine, Rufus Featuring Chaka Kahn, Nina Simone, Sister Rosetta Sharpe and Link Wray.
Inductees are scheduled to be unveiled in December. The induction ceremony will be in Cleveland in mid-April.