Goldy McJohn, keyboard player for the classic lineup of Steppenwolf, has died at age 72.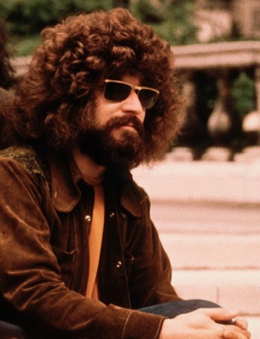 McJohn's overamped Lowrey organ work drove Steppenwolf hits such as "Magic Carpet Ride," "Born to Be Wild" and "The Pusher." He played on the band's first seven albums.
McJohn co-founded Steppenwolf with singer John Kay in 1967. The band moved from Toronto to Southern California, where it found success as one of the heavier acts of the psychedelic era.
Steppenwolf came to fame as the organ was featured in a number of successful rock bands, most of them British. McJohn was considered one of the best keyboard men on the psychedelic music scene.
"When I listen to my old stuff, I think, 'Who the fuck is playing the keyboard,'" he said in 2011.
The keyboard player's other bands included the Mynah Birds (with Rick James and Bruce Palmer), Manbeast, a late-model Humble Pie and various touring acts keyed to the Steppenwolf brand.
The classic lineup of Steppenwolf lasted until the early 1970s, playing the rock festival circuit and cranking out radio-friendly hard-rock hits. McJohn, known for his dramatic white-guy Afro, stayed with the act as it recast itself through the first half of that decade. Eventually he was fired by group leader Kay.
McJohn reportedly surrendered his royalty rights in order to continue using the band's name in a knockoff act. He told an interviewer that he became homeless at one point as a result of his financial blunders. Steppenwolf's albums have been reissued repeatedly over the decades as its catalog continues to have success in the classic rock arena.
Born in Canada as John Raymond Goadsby, he was trained as a classical pianist.
McJohn died of a heart attack early Aug. 1, his family said. A Sept. 1 benefit concert in Indio, Calif., in which he was scheduled to appear will go on as a tribute to the keyboardist, according to his Facebook page.
Steppenwolf is celebrating its 50th anniversary Aug. 5 at the Ryman Auditorium in Nashville, playing as John Kay & Steppenwolf. (Kay is the sole original member.) The band was shortlisted for the Rock and Roll Hall of Fame in late 2016.