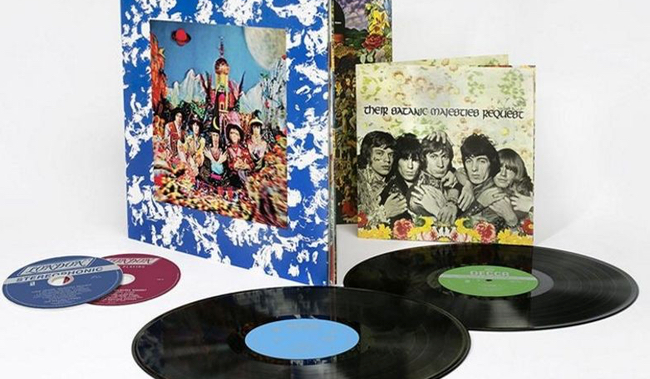 The Rolling Stones' "Their Satanic Majesties Request" can't get no respect. Still.
The wannabe rival to "Sgt. Pepper's Lonely Hearts Club Band" receives its own 50th anniversary release Sept. 22, coming on the heels of an ambitious rerelease of the Beatles' psychedelic masterpiece.
But while "Sgt. Pepper" was celebrated at the half century mark with surround sound, a new stereo mix, a plethora of alternate tracks and generational hoo-hah, the Stones' album returns to market with a modest yet respectable offering.
"Their Satanic Majesties Request: 50th Anniversary Special Edition" features SACD and LP versions of both mono and stereo versions of the 1967 album. The stereo LP and SACD appear to have a brand-new mix while the mono dates back a year. Fans looking for studio rareties and alternate takes undoubtedly will be disappointed (unless they own the bootlegs).
The four-disc $90 set does, however, feature the restored original lenticular (3D-ish) image of the Stones in their psychedelic finery.
Also included is a 20-page book with Michael Cooper's photos from original cover shoot. Yes, that Michael Cooper, fresh from shooting the similar but far more famous cover for "Sgt. Pepper."
The recording was newly remastered by Bob Ludwig of Gateway Mastering. Ludwig did the mono Stones set of last year, which included the 1967 album. The vinyl was cut at Abbey Road.
"Their Satanic Majesties Request" has been going in and out of style for decades, but it's widely considered among the weakest of the classic-era Rolling Stones records. Mick Jagger and Keith Richards both have panned their own album ("a load of crap"). Stones producer Andrew Loog Oldham walked out of the sessions, tired of the band's stoned shenanigans. "It was so druggy — acid and all that," drummer Charlie Watts recalled. Rolling Stone magazine said the resulting album reflected "an identity crisis of the first order."
Stung by criticism of the work as a second-rate "Sgt. Pepper," the band retreated to their baseline blues-based rock, in short order producing the late 1960s classics "Beggars Banquet" and "Let It Bleed."
Still, psychedelic music fans can find some transcendent moments on "Satanic Majesties": the spacey "2000 Light Years From Home"; Bill Wyman's "In Another Land"; the infectious "She's a Rainbow"; and the rocking "Citadel."
The last SACD release for the title was in 2011, out of Japan. (The upcoming release is a hybrid SACD, meaning the disc also plays on regular CD players. The turn-of-the-century Stones reissues also are hybrids.)
The set is billed as numbered and limited.