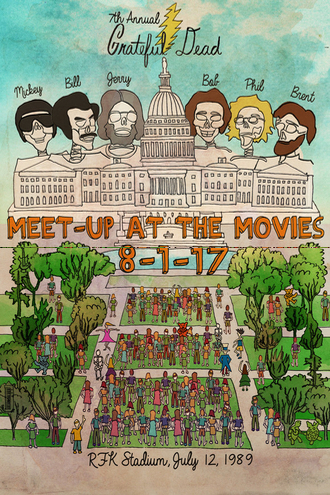 The seventh annual Grateful Dead "Meet-Up at the Movies" salutes the band's gig in Washington, D.C., during the summer of 1989.
The Dead's cinema event happens Tuesday, Aug. 1, at 7 p.m. local time.
The Grateful gathering coincides with the 75th anniversary of Jerry Garcia's birth.
Video of the July 12, 1989, capital concert at RFK Stadium is previously unreleased, organizers say. (The band also played RFK the next day.) The recording, which looks crisp, runs just over 2.5 hours.
The show opens with the band's unlikely late '80s hit "Touch of Gray" and continues with Dead fare such as "Cassidy," "Ship of Fools," "Sugaree" and "I Need a Miracle." The show closes with what is a rare video-taped performance of "Black Muddy River."
The Grateful Dead Meet-Up at the Movies began in 2011 and has carried on once a year ever since. (Sort of. A Dead cinema event in April also was billed as a meet-up, screening "The Grateful Dead Movie" on its 40th anniversary.)
Pay-per-view specialist Fathom Events organizes and manages the screenings. Venue information and tickets for the 2017 Meet-Up can be accessed via the Fathom web site.
Members of the band just wrapped their current tour as Dead & Company in Chicago.