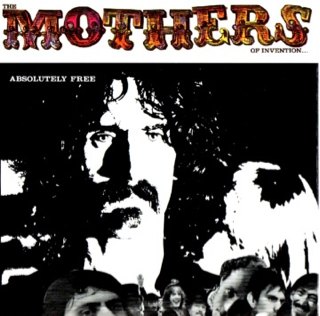 Frank Zappa and Mothers, the Doors, David Gilmour and the Beach Boys help keep the Summer of Love alive in 2017.
Here's a roundup of the best psychedelic/1960s music due for rerelease in the third quarter.
The Mothers of Invention's second album, "Absolutely Free," will cost you $35 as it returns in a 50th anniversary edition Sept. 29. The group's second album comes in a two-LP package: three sides host the audio; the fourth has a laser etching of bandleader Frank Zappa. Witness the strange and the borderline psychedelic on numbers such as "Plastic People," "Call Any Vegetable," "Son of Suzy Creamcheese" and, of course, "Invocation and Ritual Dance of the Young Pumpkin." The "Absolutely Free" album comes "mastered by Bernie Grundman and cut directly from the original analog master tapes" — as in, not the FZ digital revision.
The second LP has a few radio ads, a version of "Big Leg Emma," and remixes of "Brown Shoes Don't Make It" and "America Drinks and Goes Home." The album serves as the transition between the grab bag "Freak Out!" and the Mothers' hippie comic masterpiece "We're Only in It for the Money." Plenty of post-production tomfoolery and less do-wop than the first album. Double gatefold. Includes 18-page "libretto." Via Universal/Zappa Records.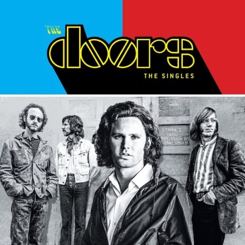 The Doors made groundbreaking underground albums, but for anyone within earshot of a jukebox or transistor radio in the 1960s they also were among the great singles acts. "Light My Fire" was once voted the greatest jukebox record of all time. Due Sept. 15 is a deluxe collection with all U.S. singles, including the B-sides. Some of the singles mixes/edits have long been MIA. The two-CD, one Blu-ray version includes mono radio versions of four singles released only to radio. The Blu-ray contains the 1973 quad remixes of the "Best Of" tracks recently released on SACD by Audio Fidelity. All six studio albums are repped, with hits (and misses) ranging from "Break on Through (To the Other Side)" to "Riders on the Storm."
Of most interest to collectors will be the 20-disc 7-inch vinyl edition (limited to 10,000 copies). There is also a budget two-CD version and the usual digital/streaming. Also due from the Doors is a 7-inch rerelease of the single "Light My Fire" with Japanese artwork, July 28. B-side is "The Crystal Ship." Via Elektra/Rhino. The Doors recently released a 50th anniversary version of their debut album with stereo and mono mixes.
Spirit followed up its stunning debut album with "The Family That Plays Together," featuring the driving single "I Got a Line on You." Audio Fidelity's SACD releases of the L.A. band's classic albums continues July 7 with this inventive work with new audio by Steve Hoffman. Uses the 1968 mixes. Other key songs include "Aren't You Glad" and "Silky Sam." Five bonus tracks. Read more about the Spirit SACD rereleases.
More Spirit: Audio Fidelity lists Sept. 8 for the SACD of "Clear," the band's jazz-influenced third album. The hit is "Dark Eyed Woman," but check out the trio of ace instrumentals, including the title track. Bonus tracks include "1984." Also, Randy California's 1972 studio album "Kapt. Kopter and the (Fabulous) Twirly Birds" from Music on Vinyl, Sept. 15.
David Gilmour's "Live at Pompeii" set arrives Sept. 29. The 2016 recordings are offered in a variety of formats, including four LPs and two CDs. Fans will no doubt go for the box set (two CDs, two Blu-rays) with documentaries about the concerts and other tour performance footage. Gilmour played the empty ancient amphitheater in Pompeii with Pink Floyd, of course, but returned to become the first performer play there in front of an audience since olden days. Standalone versions also on offer. Columbia.
Yoko Ono did more than freak out Beatles fans back in the day. The Secretly Canadian label continues its reissues of the art rocker's albums, this time turning to the solo post-Plastic Ono Band era. Coming July 14 are 1971's "Fly," 1973's "Approximately Infinite Universe" and 1973's "Feeling the Space." "Fly's" "Don't Worry, Kyoko (Mummy's Only Looking For Her Hand in the Snow)" famously featured John Lennon, Eric Clapton, Ringo Starr and Klaus Voorman. Remastered on vinyl (CDs/digital same source as the Rykos).
The Claypool Lennon Delirium's 10-incher "Lime and Limpid Green" proved to be one of the hottest properties at last spring's Record Store Day. The set of psychedelic covers — "Astronomy Domine," "Boris the Spider," "The Court of the Crimson King" and "Satori" — goes wide Aug. 4 "on ultra clear vinyl with a kelly green and doublemint colored splatter." Also digital. Via ATO Records.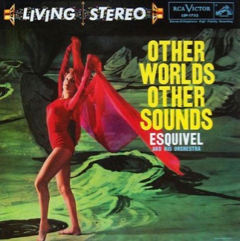 Esquivel's "Other Worlds Other Sounds" advertised its otherworldly goods with cover art of a siren in red, dancing on the moon. Crank up that hi-fi for Audio Fidelity's rerelease of the bachelor pad classic on "translucent red" vinyl. Exotica covers of "Begin the Beguine," "That Old Black Magic" and "Granada." July 7.
Sun Ra's multitude of albums includes a handful of cornerstone titles. They include the transitional "The Magic City" (1966). Four space-rock songs, three live. The sidelong studio title track is the stunner, about as psychedelic as it gets. July 7 on vinyl, via Cosmic Myth Records. Also, "My Brother the Wind, Vol. 1" on Aug. 11.
Steppenwolf remains known as a singles band, although it made a few solid albums. The hits you'd expect to hear are collected on "Gold: Their Greatest Hits," due Sept. 22 via Analogue Productions. The single LP (a comp dating back to the early '70s) features mastering by Kevin Gray, "from the original analog tapes." On 200-gram vinyl with a gatefold jacket.
The Moody Blues are again "Collected" on a four-LP set that ranges from the British Invasion hit "Go Now" to the psychedelic classics such as "Nights in White Satin" to the pop rock of "I'm Just a Singer (In a Rock 'n Roll Band)." Limited first pressing comes on purple vinyl. July 14 via Music on Vinyl.
The Beach Boys rode the crest of the Summer of Love. The set "1967: Sunshine Tomorrow" offers "a slew of previously unreleased material" from the era of "Wild Honey" and "Smiley Smile." Leads off with a new stereo mix of the "Wild Honey" album. Live tracks from the "Lei'd In Hawaii" project. Two CDs, just out from Capitol. Also, the new "Wild Honey" mix on vinyl, July 21 via Capitol. And a 45 rpm reissue of "Pet Sounds" (two discs) via Analogue Productions, out July 28. And "Playback: The Brian Wilson Anthology" from Rhino, Sept. 22.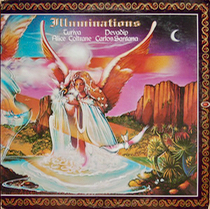 Carlos Santana & Alice Coltrane: After the Woodstock-era Santana imploded in 1971, Carlos Santana dedicated himself to expressing his interest in Eastern philosophy in music. 1974's double-LP "Illuminations" followed up on the guitarist's John Coltrane cover of "A Love Supreme." Other musicians include Jack DeJohnette and Dave Holland. SACD release with original quad-encoded track. Via Vocalion (import). August.
Santana & the Isley Brothers have teamed up for a covers album, "Power of Peace." Songs include "Are You Ready," "Love, Peace, Happiness" and "Higher Ground" — many being played on Santana's current tour. Produced by Carlos Santana. Due Aug. 4 via Legacy/Sony.
The Jimi Hendrix Experience's greatest hits return once again Sept. 8, with the double-album version of "Experience Hendrix: The Best Of Jimi Hendrix." The vinyl release stretches from "Purple Haze" to "Star Spangled Banner," with no surprises in selections. A quarter of the tracks come from his solo years. Previously released on CD. Via Sony Legacy.
Steve Winwood plans a Sept. 1 release of his "Greatest Hits Live." The set (two CDs, four records) is heavy on selections from his Traffic and Blind Faith years. Psychedelic-era selections include "Dear Mr. Fantasy," "Rainmaker" and "Had to Cry Today." Still no Traffic box set. Wincraft Records.
Nuggets as a franchise has been watered down over the decades, but it's still out there. For your consideration, from Rhino: "Transparent Days: West Coast Nuggets." Two LPs with a few name bands — the Peanut Butter Conspiracy, the Association and Love — and plenty of "Nuggets"-style ephemeral acts. 30 tracks pressed on transparent vinyl. July 25. Part of reissue label's Summer of Love campaign.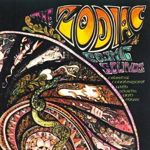 The Zodiac's "Cosmic Sounds" returns to delight fans of psychedelic camp. The concept album from Elektra chief Jac Holzman walks listeners through the 12 signs of the Zodiac. L.A. sesshttp://psychedelicsight.com/?p=13211&preview=trueion musicians freak out, for scale. On glow-in-the-dark vinyl. July 25, via Rhino. Part of label's Summer of Love campaign.
The Grateful Dead, gone but forever comped, get another turn with Rhino's "Smiling on a Cloudy Day." The 10-track set focuses on the Dead's early psychedelic years with songs such as "Morning Dew," "China Cat Sunflower" and "St. Stephen." Part of label's Summer of Love campaign. LP and CD, July 11. Also, Jerry Garcia's "Garcia" (aka "Compliments of Garcia") and "Reflections" on vinyl, July 28 via ATO Records.
More Dead: The "Long Strange Trip" soundtrack debuts on two slabs of vinyl, Aug. 4, via Grateful Dead Productions. Also, as an Amazon exclusive, a six-disc version with an additional 80 minutes of music, including previously unreleased versions of "Stella Blue" and "Days Between." Two CD versions have already been released. Note: Amazon cautions that the six-LP set is "incredibly limited" — but it was available as of mid-July. Unavailable, however, is the latest Dave's Pick selection, "Eugene, Or. 1/22/78." The run of 16,500 CDs sold out quickly. They ship Aug. 1.
Love should have been called Hate instead, wags of the 1960s L.A. scene insisted. Check the evidence on Rhino's mono reissue of the band's self-titled debut. Garage rock with hints of psychedelia to come. Songs include the hit "My Little Red Book," "Signed D.C." and "Mushroom Clouds." July 11.
The Monkees mostly remain known for sunshine pop, but they ventured into psychedelic music as the trend gods dictated. Rhino collects the swirly stuff on the band's new comp "Summer of Love." Tracks include "Porpoise Song," "She" and "Randy Scouse Git." LP and CD, July 18. Part of label's Summer of Love campaign. Also, "Headquarters Stack-O-Tracks" (backing tracks) on clear vinyl via Friday Music, Sept. 29.
Atomic Rooster's second album "Death Walks Behind You" features the English band's classic lineup of Vincent Crane, John Du Cann and Paul Hammond. It's considered a key early prog rock album (1970), driven by Crane's sensational keyboard work. Out July 21 via Music on Vinyl. Also, the third album, "In Hearing Of," on Aug. 11.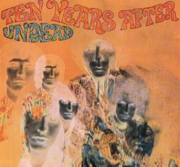 Ten Years After found worldwide fame with the Woodstock festival and film. Sundazed gets back to the band's early days with rereleases of "Undead," "Stonedhenge" and the self-titled debut album. "Stonedhenge" offers the fare hippies went for, but "Undead" (with the original track listing) is the treasure here, with Alvin Lee deftly fusing jazz, rock and blues. It includes the original "I'm Going Home," but check out the band's spin on some American pop standards. Vinyl, "from the original U.K. mono masters" on July 7.
Brian Eno made a handful of influential solo albums in the period between Roxy Music and his ambient experiments. They're back on 45 rpm vinyl "half-speed mastered at Abbey Road Studios." The lineup: "Here Come The Warm Jets," "Taking Tiger Mountain (By Strategy)," "Another Green World" and "Before and After Science." Collaborators include Robert Fripp, Robert Wyatt and John Cale. Look for these "deluxe gatefold editions" with obi from UMC/Virgin EMI come Aug. 4.
Coliseum helped build the foundation for prog rock in the late 1960s with its innovative blend of jazz and rock. Three remastered CD reissues are on the way: "Those Who Are About to Die Salute You" (1968), "The Valentyne Suite" (1969) and "Daughter Of Time" (1970). All with bonus tracks. Import CDs due July 28.
Emerson, Lake & Palmer tried to rekindle the flame in the early 1990s, but it wasn't to be. Relive the end of days, if you must. BMG resurrects the final studio album, "In the Hot Seat" (1994) as well as the failed comeback album "Black Moon" (1992). Vinyl, July 28.
(text continues)
Also of interest: "Anthology 2" by Steve Howe on three CDs (import, Aug. 11); "Towards Utopia" by Bodast on CD (Steve Howe, import, Sept. 29)"Alone Together" by Dave Mason on vinyl (Sept. 8); "John B. Sebastian" by John Sebastian on vinyl (July 28); "Heavy Weather" by Weather Report on Audio Fidelity SACD (July 7); "Milk of the Tree: An Anthology of Female Vocal Folk & Singer-Songwriters 1966-1973" on three CDs (import, just out); "20 Years in a Montana Missile Silo" by Pere Ubu on vinyl (new album, import, Sept. 29); "Body of Work (1978-1988)" by Godley & Creme in a five-CD box set (import, Aug. 9); "Alice's Restaurant" by Arlo Guthrie on mono vinyl (July 18); and "Getting Together: Groovy Sounds of the Summer of Love" on vinyl (July 18). …
Also: "Pentangle — The Albums: 1968-1972" in a seven-CD box set (import, Sept. 29); "Songs From the Wood" by Jethro Tull (Steve Wilson stereo remix, Aug. 4); "Art in Music Trilogy" by Rick Wakeman on three CDs (import, July 28); "Goodbye and Hello" by Tim Buckley on vinyl (July 25); "Vanilla Fudge" on white vinyl (July 18); "The Electric Prunes" on purple vinyl (July 18); "Astral Weeks" by Van Morrison on clear vinyl (July 18); "Triangle" by the Beau Brummels on colored vinyl (July 11); "Bridge of Sighs" by Robin Trower on CD (reissue of 2007 digital, import, Aug. 18); July's self-titled 1968 debut on vinyl (import, July 28); and "Safe as Milk" (50th anniversary edition) by Captain Beefheart & His Magic Band on vinyl (Sept. 22).
Note: Release dates for vinyl and SACD titles remain fluid until they actually ship. This record roundup will be updated through the quarter. SACDs are all hybrids unless specified otherwise; they'll work on a CD player not offering advanced resolution.