SiriusXM is introducing the Beatles' one and only "official" radio channel.
The Beatles Channel first beams down on the satellite radio operation May 18.
That's a week ahead of the rerelease of "Sgt. Pepper's Lonely Hearts Club Band," virtually assuring the U.S. of another dose of Beatlemania, or as close as it gets 50-plus years on.
The station plans to play the remixed "Sgt. Pepper" in full on June 1, the half-century anniversary of its release.
The Beatles Channel will feature music from the band and the four musicians as solo acts.
SirusXM promises: "Their hits and album tracks, live recordings and rarities, solo works from John, Paul, George and Ringo, records that influenced the band, as well as the music they inspired."
update: The first five songs played upon launch:
All You Need Is Love
Sgt. Pepper/With a Little Help From My Friends (2017 mix)
Roll Over Beethoven
Eleanor Rigby
All My Loving (Paul McCartney live)
/update
Branded programming on the permanent Beatles channel includes:
Magical Mini Concert: Weekly "fantasy concert" with live music from the Beatles and the solo catalogs.
Breakfast With the Beatles: Chris Carter's long-running fan show, beaming down daily.
The Fab Forum: Weekly call-in show with music expert Bill Flanagan and broadcaster Dennis Elsas. Panelists "including authors, musicians and fans." Flanagan also is doing a show called "Northern Songs."
Peter Asher: From Me to You: The almost-brother in law and member of Peter and Gordon does a weekly show. Asher also worked at Apple Records.
My Fab Four: A daily guest DJ show.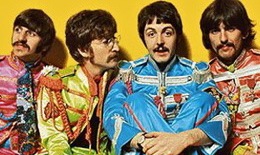 The Beatles Channel is done "in collaboration with and fully authorized by The Beatles' Apple Corps Ltd." It is not the first all-Beatles radio station, however.
"I still remember the thrill of when we first heard our music on the radio," Paul McCartney said in the SiriusXM press release. "But I don't think any of us would have imagined that we'd have our very own Beatles radio channel more than 50 years later. The SiriusXM channel will have it all, eight days a week."
The Beatles Channel will launch at exactly 9:09 am ET on Thursday, May 18.
The Beatles connection is a major get for the satellite radio operation, of course. While criticized for stagnating play lists and aging formats on its regular channels, SiriusXM increasingly has turned to artist-themed channels with acts such as Garth Brooks, Tom Petty, Pink Floyd, the Grateful Dead, Bruce Springsteen, B.B. King and Billy Joel.
Sirius XM chief Scott Greenstein told the AP the channel "will sound shockingly current and alive, not a retrospective jukebox."