King Crimson plans "Radical Action" in North America this summer.
Cities on the prog giants' schedule for June and July include Los Angeles, Seattle, Denver, Minneapolis and Chicago.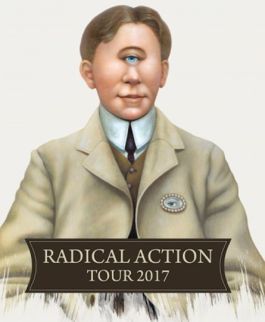 Other dates in the 15-city sweep include San Diego, Toronto, Quebec and Rochester, N.Y.
Other notable dates are the Montreal Jazz Festival and a two-night stand in Mexico City.
Founder Robert Fripp's web site indicated other tour stops were set for the fall, including New York City. A few of the confirmed venues appeared to have tickets on sale … and others had yet to even post the listing.
The swing is billed as "Radical Action Tour 2017," named after the recent live recordings released as "Radical Action to Unseat the Hold of Monkey Mind."
The "Monkey Mind" recordings (three CDs, one Blu-ray) capture King Crimson in 2015, playing with its front trio of drummers.
Here are the summer 2017 King Crimson tour dates, as UPDATED on March 2:
June 13: Seattle, Moore Theatre
June 15: Saratoga, Calif., Mountain Winery
June 17: San Francisco, Fox Theatre
June 19: San Diego, Humphrey's
June 21: Los Angeles, Greek Theatre
June 24: Denver, Bellco Theatre
June 26: Minneapolis, State Theatre
June 28: Chicago, Chicago Theatre
June 30: Rochester, N.Y., Kodak Hall at Eastman Theatre
July 3: Montreal, Montreal Jazz Festival
July 5: Toronto, Massey Hall
July 7: Quebec, Centre Videotron
July 9: Red Bank, N.J., Count Basie Theatre
July 14-15: Mexico City, TBA / no longer listed
King Crimson presales try code "radicalaction"