The Crazy World of Arthur Brown is returning to the New World for eight shows in February.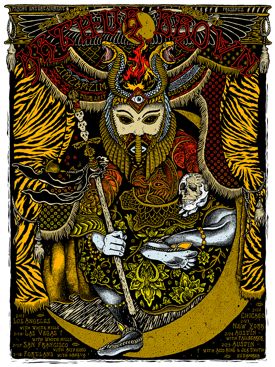 Following up on Brown's performance at the Psycho Las Vegas festival last August, it is his band's first U.S. tour in almost a half century.
Brown, best known for his psychedelic rock hit "Fire," will play the big three cities of L.A., Chicago and New York. He'll also return to Las Vegas and his old stomping grounds of Austin, Texas. Gigs also are set for Portland and San Francisco.
The British singer has remained active since his late 1960s breakout, and can be caught at various European music festivals.
The Crazy World of Arthur Brown's latest album is "Zim Zam Zim," crowdfunded and released in 2014.
The Crazy World of Arthur Brown's self-titled debut LP of 1968 is a top 20 entry in this web site's list of the top psychedelic albums. It was the only album produced by the "classic" Crazy World lineup, which included the late keyboardist Vincent Crane.
Pete Townshend produced some of the band's early tracks for the Track label. The Crazy World also worked with label mates the Jimi Hendrix Experience. Brown appeared as the Priest in the movie version of "Tommy."
Brown, in his mid-70s, has released more than a dozen studio albums over the decades, as a solo act and as part of the Kingdom Come and Crazy World bands.
Brown long has performed with a psychedelic theatricality, notably wearing a flaming headdress as "the God of Hellfire."
Reviewing the August show in Las Vegas, Rob Sperry-Fromm said Brown "performed every song like his life depended on it."
"He can sing in a deep, operatic tone or get up to an Axl Rose-like scream, and he does both while absolutely owning the stage."
Here are the upcoming Arthur Brown tour dates:
Feb. 15: Los Angeles, Regent Theater with White Hills
Feb. 16: Las Vegas, Hard Rock Hotel & Casino with White Hills
Feb. 17: San Francisco, Slims with Acid King
Feb. 18: Portland, Star Theater with Danava
Feb. 21: Chicago, Reggies
Feb. 23: New York, Le Poisson Rouge
Feb. 24: Austin, Barracuda with Pallbearer
Feb. 25: Austin, Barracuda with Acid King & Jex Thoths