Prog rocker John Wetton, a veteran of the classic early 1970s lineup of King Crimson, has died at age 67.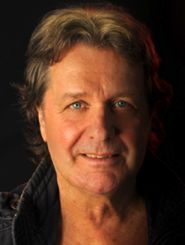 Wetton, a singer and bassist, also is known for his role in the bands Asia and U.K. He also worked with Roxy Music, Uriah Heep, Family and Wishbone Ash.
With King Crimson, Wetton performed on the albums "Larks' Tongues in Aspic," "Starless and Bible Black" and "Red" — all considered prog classics and among the band's best albums. The lineup drew on Eastern European influences and was known for instrumental improvisation.
Frontman Wetton collaborated on songs for the "Red" era King Crimson with his friend Richard Palmer-James. King Crimson leader Robert Fripp compared the loud and heavy playing style of Wetton and drummer Bill Bruford to "a flying brick wall." That version of the band lasted from 1972 to 1974.
After hearing of Wetton's death, Fripp noted in his online diary that "John was a pal over almost forty-two years."
"JW was, for me, the leading bass player of his generation, a player of international class, before John moved increasingly to the front as singer and songwriter," Fripp wrote.
Wetton's many other collaborators from the prog world included Carl Palmer, Steve Howe, Brian Eno, Bill Bruford, Allan Holdsworth, Alan White and Phil Manzanera.
Wetton wrote the global hit "Heat of the Moment" for Asia.
The English musician also maintained a solo career (the album "Battle Lines").
Wetton died of colon cancer in Bournemouth, England, on Jan. 31. In mid-January, he told fans that he would not be able to continue with a planned Asia tour with Journey due to chemotherapy.
Carl Palmer, the prog drummer who worked with Wetton in Asia, wrote: "John was a gentle person who created some of the most lasting melodies and lyrics in modern popular music. As a musician, he was both brave and innovative."