George Harrison's solo output will be celebrated with an 18-LP box set due in late February.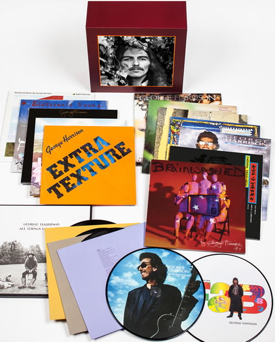 Universal Music's "George Harrison: The Vinyl Collection" packs in a dozen studio albums — ranging from "Wonderwall Music" to "Brainwashed" — as well as a pair of 12-inch picture discs, for the singles "Got My Mind Set on You" and "When We Was Fab." The set also includes the double album "Live in Japan."
"The original analogue master tapes were used for the new remasters and were cut at the legendary Capitol studios," project promoters say.
Also promised are "exact replicas of the original release track listing and artwork," meaning "All Things Must Pass" returns to the classic black-and-white look. The box has a 3D-style lenticular cover image (see video below).
The albums will be made available separately, with "All Things Must Pass" as a "limited edition title." (That "limited" number was not specified.)
No bonus tracks or B-sides, apparently, to the dismay of Harrison completists.
"George Harrison: The Vinyl Collection" releases Feb. 24 in North America and the U.K.
Shortly after confirmation that the box set was coming, it was preordering on Amazon for about $465. "All Things Must Pass" (three discs) was clocking in at $70. Other titles were going for about $23.
Meanwhile, mini-CDs of the Harrison titles are preordering in Japan. They are in the SHM-CD format (plays on regular CD players) and reportedly use the same mastering as the new vinyl set.
Adding a dash of surrealism to the proceedings is the concurrent release of a "George Harrison Essential III turntable" made by Pro-Ject Audio Systems. Limited to 2,500 worldwide.
Harrison's first six albums were packaged on CD in the 2014 box set "The Apple Years 1968-75."
Here are the albums in the new Harrison vinyl set:
Wonderwall Music (1968), 1 LP
Electronic Sound (1969), 1 LP
All Things Must Pass (1970), 3 LP
Living in the Material World (1973), 1 LP
Dark Horse (1974), 1 LP
Extra Texture (1975), 1 LP
Thirty Three & 1/3 (1976), 1LP
George Harrison (1979), 1 LP
Somewhere in England (1981), 1 LP
Gone Troppo (1982), 1 LP
Cloud Nine (1987), 1 LP
Live in Japan (1992), 2 LPe
Brainwashed (2002), 1 LP