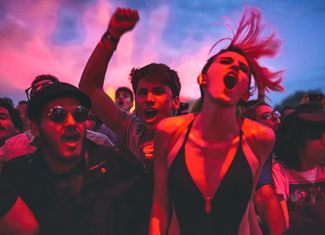 The news gets worse for fans of Levitation, the nation's largest psychedelic music festival.
After losing the 2016 gathering to nasty weather in and around Austin, Texas, organizers now have pulled the plug on the 2017 edition.
"We are taking a year off to relaunch in 2018," organizers said on the festival's web site. "While this wasn't an easy decision to make, with more time we can present the best festival without compromises."
They didn't elaborate on what issues would have led to "compromises."
The psychedelic music festival took a major hit in April, when the threat of flooding caused a total cancellation a day before the three-day event was to begin. "We are completely devastated," organizers said at the time.
The 2016 festival was to feature acts including Ween, Brian Wilson, Courtney Barnett, Super Furry Animals, the Black Angels, the Arcs and Melody's Echo Chamber.
The Austin American-Statesman reported in September that several lawsuits were pending over the canceled festival.
The cancellation also led to hard feelings with some fans waiting for refunds. "The insurance claim process has taken much longer than anyone expected," Levitation said in late May. "We completely understand why customers are upset."
Saying in the mid-November announcement that it was a "privilege and honor for the last decade to host the Psych community and our favorite artists," organizers from the Reverberation Appreciation Society added: "We look forward to seeing you at Levitation 2018!"
The event formerly was known as the Austin Psych Fest. Members of the local band the Black Angels manage and curate the festival, which dates back to 2008.
Recent highlights include the 2015 reunion of the 13th Floor Elevators, whose pioneering psychedelic music inspired both the name of the festival and the guiding Reverberation Appreciation Society.