Jimi Hendrix's music makes its debut on the SACD and high-resolution digital formats with September's release of "Machine Gun: The Fillmore East First Show 12/31/69."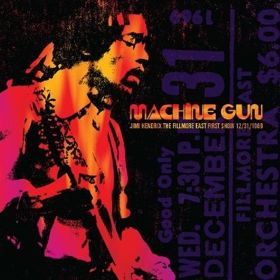 While artists such as Miles Davis and Frank Sinatra have been the subject of major SACD release campaigns, Hendrix's catalog remains mostly limited to CD, vinyl and regular digital files.
The move to release the new Band of Gypsys live set raises hopes that Hendrix's classic studio albums — "Are You Experienced," "Axis: Bold as Love" and "Electric Ladyland" — will emerge in the audiophile SACD format.
Experience Hendrix and Legacy Recordings (Sony) are releasing the album, along with a rerelease of the "People, Hell & Angels" posthumous collection that includes SACD and high-res digital. Analogue Productions is issuing the SACDs.
The "Machine Gun" album was mastered by Bernie Grundman with oversight from Hendrix sound guru Eddie Kramer. It was unclear if the SACDs would include 5.1 audio. Many SACDs are in surround sound, although some are not. Other formats for the release are CD and double-LP vinyl.
Hendrix's short-lived Band of Gypsys group first was captured lived on the self-titled album released by Capitol Records when the guitarist was alive. Capitol retains rights to that album.
The new Band of Gypsys album documents the first of the group's four legendary Fillmore East concerts. There were two on New Year's Eve 1969, and two on New Year's Day 1970. "Never before has the first of these sets been available in its entirety," according to the Hendrix family estate. Several of the performances were released on another "Fillmore East" set, however, and Hendrix collectors long have had access to bootlegs of all four shows.
Songs on the new Fillmore album include "Power Of Soul," "Changes" and "Ezy Ryder." The band featured vocalist/drummer Buddy Miles of Electric Flag fame and Hendrix's pal Billy Cox.
Hendrix's classic performance of "Machine Gun" is No. 45 on this web site's list of top psychedelic songs (as found on "Band of Gypsys"). Critic David Fricke, who wrote the new album's liner notes, says the earlier live track about to be released is "another revelation — a stunning essay in pain, rage and determined survival, fully formed in its initial outing."
The new "Machine Gun" album includes live versions of several studio tracks found on "People, Hell & Angels": "Hear My Train A Comin,' " "Izabella" and "Earth Blues."
Release date for the Jimi Hendrix albums is Sept. 30.
More Jimi Hendrix content: