Keyboardist Keith Emerson, whose work with the Nice and Emerson, Lake & Palmer linked modern rock with centuries of classical music, has died. He was 71.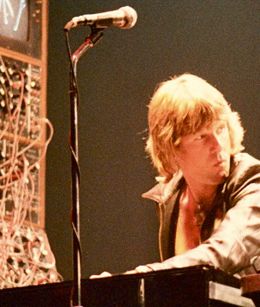 The progressive rock star reportedly died of a single gunshot wound to his head, which police said appeared to be self-inflicted. He was found at his home in Santa Monica, California.
"We ask that the family's privacy and grief be respected," the band wrote in confirming news of Emerson's death.
Bandmate Carl Palmer said Emerson "was a gentle soul whose love for music and passion for his performance as a keyboard player will remain unmatched for many years to come."
Emerson, Lake & Palmer was one of the top arena-rock acts of the early 1970s, releasing the key progressive rock albums "Tarkus" and "Brain Salad Surgery." While praised for its musicianship and drive to experiment, ELP also served as a target for critics and punk rock stars who found the band's music pretentious and bombastic.
Emerson came to fame in his native Britain as leader of the Nice, which he cofounded as a backing band in 1967. The Nice broke through with its high-speed retelling of Leonard Bernstein's "America" (from "West Side Story"), pointing the way to Emerson's career path of combining rock and "long hair" music.
Emerson quickly became the band's focal point, stabbing and whipping his Hammond organ onstage. The Nice reportedly were banned from London's Royal Albert Hall after Emerson burned an American flag onstage — a move associated with the anti-Vietnam War movement.
The band toured with the Jimi Hendrix Experience, Pink Floyd, Yes and other stars of the U.K. underground scene. Rolling Stone hailed Emerson as a musician who "plays like a groovy astronaut orbiting around everything."
The Nice found musical inspiration in more conventional sources, covering Dave Brubeck, Jean Sibelius, Bach and Dvořák. The band performed with the Los Angeles Philharmonic Orchestra and became one of the first psychedelic rock acts to employ orchestras in recording.
The Nice released five studio albums, but was known primarily for its wild live show. Emerson became dissatisfied with his supporting cast and hooked up with King Crimson's Greg Lake, a singer and bassist/guitarist. In 1970 they joined with the
Crazy World of Arthur Brown
drummer Carl Palmer for Emerson, Lake & Palmer, one of the original "supergroups."
While its albums featured lengthy instrumental workouts, ELP also scored with the Lake-penned hits "Lucky Man," "From the Beginning," "Take a Pebble," "Still … You Turn Me On" and even a minor holiday classic, "I Believe in Father Christmas." Emerson's famous solo on "Lucky Man" brought the Moog synthesizer to Top 40 radio.
One of ELP's signature songs was a frantic revival of "Hoedown," from Aaron Copland's ballet "Rodeo." The group's original "Karn Evil 9" also is considered a career highlight, despite its half-hour running time.
The trio first caused a stir at the Isle of Wight Festival in the late summer of 1970 and quickly was signed to Atlantic Records. The self-titled debut album found success in the U.K. and the States, with "Lucky Man" charting as a single.
The second album, "Tarkus," opened with a 20-minute instrumental title track that alarmed Lake and almost split the group. The LP made ELP stars, nonetheless:
"We were touring like crazy, and if we weren't on the road, we were in the studio working on things that were even more demanding," Emerson recalled in an interview with Music Radar. "This was a period of very intense creativity."
"Tarkus," with its surrealistic cover art of a robotic armadillo, was followed by "Pictures at an Exhibition," a live album with a lengthy and loose adaptation of Mussorgsky's composition. It proved an unlikely hit and ELP continued until 1979 with its formula of lengthy instrumentals leavened by psychedelic-lite rock songs.
The group reunited several times over the decades, and Emerson worked with both bandmates on one-off projects. Emerson also revived the Nice in 2002.
Emerson, who also worked as a solo act, released a half dozen albums on his own, the last being "The Three Fates Project" in 2012. He also joined the rock band 3 and the Best.
Emerson's health problems included nerve damage that affected his ability to play.
Upon hearing of the death, Palmer called Emerson "my good friend and brother-in-music."
"He was a pioneer and an innovator whose musical genius touched all of us in the worlds of rock, classical and jazz. I will always remember his warm smile, good sense of humor, compelling showmanship, and dedication to his musical craft."
Lake said: "What I will always remember about Keith Emerson was his remarkable talent as a musician and composer and his gift and passion to entertain. Music was his life and despite some of the difficulties he encountered I am sure that the music he created will live on forever."
Lake told the Sunday Express newspaper that Emerson suffered from depression that dated back to ELP's failed "Works" project in the late 1970s. The singer said "his death didn't come as a shock to me."
Emerson was born in Todmorden, Yorkshire. He studied traditional classical piano, but also became a fan of American Hammond organ artists such as Jimmy Smith and Brother Jack McDuff. His interest in the Moog synthesizer began with Walter Carlos' hit album "Switched-On Bach." The rock star Emerson's deep pockets helped drive development of synthesizers for stage and recording.
Emerson employed a forest of keyboards and computers on stage. He was known for various theatrical devices such as playing while suspending over the instruments and even rotating pianos end over end. ELP mounted elaborate stage shows that sometimes ended in cannon fire.
Emerson said he hated the term prog rock — and didn't think of himself as a rock star.
The albums of the Nice and ELP included myriad classical and jazz quotations and adaptations, both credited and uncredited. Sometimes the influences melded into a fusion of rock, jazz and classical, as on "Rondo" ("Blue Rondo à la Turk").
Emerson scored several films, including "Dario Argento's Inferno," the Sylvester Stallone thriller "Nighthawks," "Godzilla: Final Wars" and the TV series "Iron Man."
Emerson died late March 10 or early March 11 at his Southern California home. Police confirmed to several media outlets that they were investigating the death as a suicide.
Survivors include his longtime companion Mari Kawaguchi and two sons.