Psychedelic music just turned a half century old. Far out. Record labels are celebrating with key rereleases from artists like Cream, the Electric Prunes, Jethro Tull and Jefferson Airplane.
Here's a curiously curated preview of psychedelic/'60s music titles due in March and into the second quarter of 2016: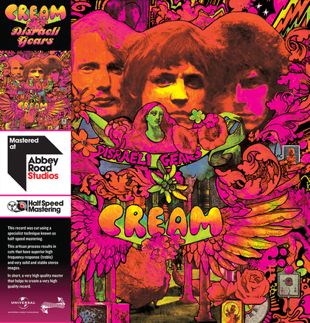 Cream's "Disraeli Gears" made the cut as one of the first titles in Universal Music Group's upcoming revival of the half-speed mastered process. The psychedelic touchstone ("Sunshine of Your Love," "Tales of Brave Ulysses") was prepped for its latest audiophile vinyl outing at Abbey Road Studios. "This album was cut from a high-resolution digital transfer from the best known analogue tape in existence," says engineer Miles Showell. (Half-speed mastered albums were popular in the late 1970s and early 1980s, primarily on the Mobile Fidelity label.) April 15 via UMC/Polydor (import). Other titles in the series include "Exile on Main Street" and Free's "Fire and Water."
The Electric Prunes' "original mixes from the master reels" feed "Singles: 1966-1969," a double LP gatefold edition due March 11. Specialty label Sundazed says "it's a Prunes project 20 years in the making for us (no kidding) — and one of our most important releases ever." With "seldom-heard mixes and versions." The L.A. band only made noise on the charts a couple of times, but they released almost at least 14 U.S. singles during the '60s. Liner notes by critic David Fricke. A single with two rarities will hit the racks for Record Store Day as well.
Jethro Tull's "Aqualung" saw an ambitious 40th anniversary revival in 2011 — now here's another take at a less ritzy price. This time the powerhouse prog-rock album comes mixed and mastered by Steve Wilson. A second CD offers more Tull from 1970-71 also reheated by Wilson. A pair of DVDs include "5.1 surround mixes, hi-res stereo mixes (both Wilson), the 1974 quad mix, and flat transfers of both 'Aqualung' and the 'Life Is a Long Song' EP." "Book set" format. Includes 80-page booklet. Parlophone (import), April 22.
More Tull: "A Classic Case" with the London Symphony Orchestra. Conducted by longtime band collaborator David Palmer. Originally released in 1985. Vinyl version (140 gram) limited to 1,000 copies. April 16.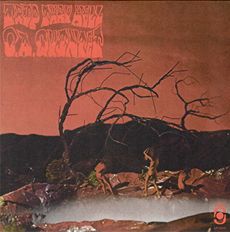 C.A. Quintet walks the Earth again via Sundazed, with a gold vinyl reissue of the way-underground "Trip Thru Hell." This DIY album from 1969 remains "a hellish beast of keyboards, lysergic lyrics, trippy guitars and even subtle trumpet parts," the label warns the unwary. Made on the cheap in Minnesota, the album was a red-hot collectors item until Sundazed revived it some 20 years ago. March 11.
The Fillmore East closed up shop in late June 1971. The new "Last 3 Nites" box set sprawls across four CDs to tell the story. Artists include Mountain, Country Joe McDonald, the Allman Brothers Band and Edgar Winter's White Trash. It's taken from the WNEW-FM broadcast of the closing shows. Via Echoes label (import), March 18.
Jefferson Airplane's masterpiece "Crown of Creation" circles back on a "first-time audiophile vinyl release" from Friday Music. Early copies will be on "translucent orange marble" 180-gram vinyl. New liner notes from Jorma Kaukonen and Jack Casady. Mastered by Friday's Joe Reagoso. Due April 15.
Blues Magoos cooked up "Psychedelic Lollipop" in 1966, kicked off by the smash hit "(We Ain't Got) Nothin' Yet." The Bronx garage rockers' covers included a journey down "Tobacco Road." From Music on Vinyl, with "first pressing of 1,000 numbered copies on blue and black transparent vinyl." 180 gram, due April 4.
More Magoos: Sundazed has the complete "Mercury Singles (1966-1968)" on LP and CD. "Accurate" original mono mixes from the masters. Sixteen tracks, including the hit. Due May 20.
King Crimson toured Canada in November. A proper live album from the three-drummer lineup is expected this fall, but until then there's "Live in Toronto," a release designed to beat the boots. Includes new tracks "Meltdown" and "Radical Action," as well as some of the prog group's warhorses. Double CD "Collection Club" set with 12-page booklet. March 18 via DGM.
Soft Machine's "Third" found the Canterbury band under the spell of Miles Davis' "Bitches Brew." The band's 1970 double album consisted of side-long instrumentals. "Third" gets a second rerelease from Music on Vinyl, March 21. "Fourth," the last album with Robert Wyatt, all instrumental, follows on April 11. In May expect "Fifth" and (double album) "Sixth." All with "limited pressing(s) of 1,000 numbered copies on (180 gram) transparent vinyl."
Terry Reid explores "The Other Side of the River" with an album's worth of material left off his 1973 "River" album, made with pal Graham Nash. The eclectic and meditative "River" was largely lost due to record-company turmoil, but continues to find new fans. At its best, the original album brings to mind "Astral Weeks" and late-period Tim Buckley. Half unreleased songs and half alternative takes. CD and vinyl, due May 20 via Future Days.
Spooky Tooth reunited in 2004, something fans of the late-1960s British band never thought they'd see. Includes original members Gary Wright and Mike Harrison. Esoteric Recordings calls it a comeback with a CD & DVD release, recorded that summer in Germany. "Nomad Poets" tracks include "Waitin' for the Wind," "Better by You, Better Than Me" and "Evil Woman." Newly remastered edition. DVD is region-free. March 25 (import).
The psychedelic revival of the early 1980s got most of its press out of L.A., but the Brits dipped back into the lysergic musical gene pool as well. "Another Splash of Color" expands on a 1982 WEA comp. This time it's a 64-track collection spanning the decade's first half. Acts include Nick Nicely, Icicle Works, Robyn Hitchcock, the Revolving Paint Dream … Includes a "weighty booklet." Three CD set out April 29 via Cherry Red (import).
Todd Rundgren's "No World Order" brought the world a preview of interactive record-making back in 1994. The computerized solo supporting tour found Rundgren getting back to his psychedelic/prog period, with tracks including "International Feel," "Chant," "Don't You Ever Learn" and "Worldwide Epiphany." From the archives comes "Live at the Forum, London, 1994." Two CDs, via Esoteric Recordings on March 25.
Mountain reached a peak with the song "Nantucket Sleighride," about a sailor taking on a mighty sperm whale. The atmospheric psychedelic rocker, written by Leslie West and Felix Pappalardi, anchors the group's second album, released in 1971. Friday Music revives the album on a limited edition clear-vinyl album (180 grams) due March 18.
Hawkwind returns, alive and well, with the new album "The Machine Stops" on May 6. It's a concept studio album and live stage show featuring a "dystopian vision of the future." Based on a E.M. Forster short story that dates back to 1909 but has plenty to say about the Internet era. Major formats, Cherry Red. Also from Hawkwind, "Warrior on the Edge of Time" on colored vinyl (Let Them Eat Vinyl, April 15) and a revival of "Space Ritual" on vinyl (Rhino, just out).
The Litter followed up its 1967 fuzz-drenched "Distortions" with the psychedelic "$100 Fine," a mix of covers and originals that soon became a rarity. Sundazed has the evidence on a new vinyl edition of the 1968 album from the Minneapolis band. Highlights include covers of "Kaleidoscope" (Procol Harum) and a 9-minute take on "She's Not There." March 11.
Captain Beefheart and his Magic Band return on vinyl via Rhino. "Spotlight Kid," "Clear Spot" and "Lick My Decals Off Baby," all with downloads. April 22.
The Monkees are getting ready to hit the road in May as a duo (sans Michael Nesmith). Filling the 50th anniversary product pipeline are a new album from the trio — "Good Times!" (Rhino, June 10) — and more to the point a Blu-ray version of their 1960s TV series. "The Monkees: The Complete Series" comes with 58 episodes "newly remastered in stunning HD from the original negatives," plus the 1969 TV Special "33 1/3 Revolutions Per Monkee." And more to the point, the psychedelic movie "Head." April 29 via Warner Music.
Also of interest: "The Incredible String Band" (self-titled debut) on 180 gram vinyl (Music on Vinyl, March 7); Jeff Beck's "Wired" and "Blow By Blow" on SACD (Analogue Productions, March 8); "Cactus" (self-titled debut) on vinyl (Real Gone, May 6); Ween's "12 Golden Country Greats" on vinyl (Plain Recordings, March 18); Robin Trower's new "Where Are You Going To" (V-12 Records, March 25); Deep Purple "In Rock" and "Fireball" on vinyl (Rhino, March 29); and Rick Wakeman's "Journey to the Centre of the Earth" on three CDs, one DVD (import, May 6) …
And … Jimmy Page's "She Just Satisfies" single on 7-inch vinyl (Mercury, April 22); The Velvet Underground's "Live at Max's Kansas City" on vinyl (Atlantic, April); The Beau Brummels' "Triangle" and "Bradley's Barn" on two-fer CD (Real Gone, May 6); Brian Eno's "The Ship" on CD, vinyl (Warp Records, April 29); the Who's "The Polydor Singles 1975-2015" (May 6); and "The Rough Guide to Psychedelic Cumbia" (Peru, Brazil, etc.) on vinyl (World Music Network, April 8)
From the jagged and glacial cliffs of TBA, we have — Thirteenth Floor Elevators' "Easter Everywhere" in mono & stereo on vinyl (Snapper) … Jefferson Airplane's "30 Seconds Over Winterland" on vinyl (Red Label) … Frank Zappa's "The Muffin Man Goes to College" (live, 1975) and Puttin' on the Ritz (live, 1981), both two volumes on vinyl (Let Them Eat Vinyl) … Funkadelic's "Standing on the Verge of Getting It On" on colored vinyl (4 Men With Beards) … "The Yardbirds" (Roger the Engineer) on vinyl (Demon) … The Zombies' "BBC Sessions" on vinyl (Varese Sarabande) … Sigur Ros' "()" on vinyl (Krunk) … and Ween's "White Pepper" on vinyl (Plain Recordings) …
More TBA (all via Mobile Fidelity): Jefferson Airplane "Volunteers" on 45 rpm and SACD … Big Brother & the Holding Company's Cheap Thrills" on 45 rpm … Santana's self-titled debut and "Abraxas" on SACD … The Alan Parsons Project's "I Robot" on SACD … Miles Davis' "On the Corner" on vinyl and SACD, and "ESP" on 45 rpm, and "A Tribute to Jack Johnson" on SACD, and "Miles in the Sky" on SACD … Janis Joplin's "Pearl" on 45 rpm.
Note: Release dates for vinyl and SACD titles remain fluid until they actually ship. This record roundup will be updated through the quarter. SACDs are all hybrids unless specified otherwise; they work on a CD player not offering advanced resolution.