Dan Hicks, a pioneer of the San Francisco sound who went on to bring swing music to new generations of hipsters, has died at age 74.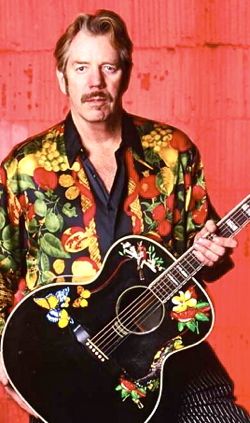 He fronted Dan Hicks and His Hot Licks, which he formed in 1967 with violinist David LaFlamme of It's a Beautiful Day Fame.
Before that, Hicks was a member of the Charlatans, a San Francisco band whose extended residency at the Red Dog Saloon has been called a seminal event in the history of psychedelic rock.
Although Hicks came out of the Bay Area's rock scene, he rarely played rock. He liked to call his sound "folk swing" and "folk jazz." The Hot Licks repertoire includes a psychedelic folk classic, the haunting violin showcase "I Scare Myself."
Hicks had suffered from liver cancer, which he revealed to fans upon canceling a string of concert dates in early 2015. He also battled throat cancer. He died Feb. 6 in Mill Valley.
"He was true blue, one of a kind, and did it all his own way always," his wife Clare Wasserman said in announcing his death. "To all who loved him, know that he will live forever in the words, songs, and art that he spent his life creating. He worked so hard on each and every detail — they are all pure Dan."
With the Hot Licks, the singer and guitarist recorded a handful of critically acclaimed albums: "Where's the Money?" (1971), "Striking It Rich" (1972) and "Last Train to Hicksville" (1973).
The albums modernized acoustic swing music for the post-psychedelic era, with Hicks' compositions drawing on the work of Bill Wills and other Texas swing acts, and especially the gypsy jazz of Django Reinhardt and violinist Stéphane Grappelli.
Hicks was a master of wry comedy, reflected in his songwriting and in the band's stage performances. Perhaps his best album, "Where the Money?" was recorded live at L.A.'s the Troubadour, featuring all original songs, most new. Hicks often worked with a pair of female vocalists versed in scat singing and call-and-response, inevitably dubbed the "Lickettes."
His most-popular songs included "Canned Music," "I Feel Like Singing," "My Old Timey Baby," "How Can I Miss You When You Won't Go Away?" and "I Scare Myself."
The early 1970s albums earned Hicks a fanbase that would remain throughout his long career, but the group failed to break through and Hicks soon disbanded the act, saying he hated being a bandleader. He worked solo, and with his Acoustic Warriors, before reviving the Hot Licks name at the turn of the century.
When he recorded a comeback album in 2000, it attracted guest artists including Tom Waits, Bette Midler, Elvis Costello and Rickie Lee Jones.
Hicks was born in Arkansas, but grew up in Northern California.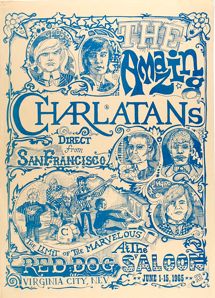 With the Charlatans, Hicks played drums, his first instrument. The group was as much performance-art project and fashion statement as rock band, however, and produced only one album during the psychedelic era. It is credited with the thrift shop/wild West look adopted by many of the San Francisco bands, as well as inspiring the first psychedelic concert posters. The band's drug-laced adventures at Nevada's Red Dog Saloon were covered in a film documentary.
Hicks often would open for the Charlatans as a solo act, an acoustic sidebar that soon evolved into the Hot Licks project.
Tall, elegant and retro-fashion forward, Hicks liked to refer himself as "more of a hipster than a hippie." Once a noted carouser, Hicks found sobriety and celebrated with an album titled "Shootin' Straight" (1994).
Hicks recorded about a dozen albums over his long career, most recently "Tangled Tales" (2009) and "Crazy for Christmas" (2010).