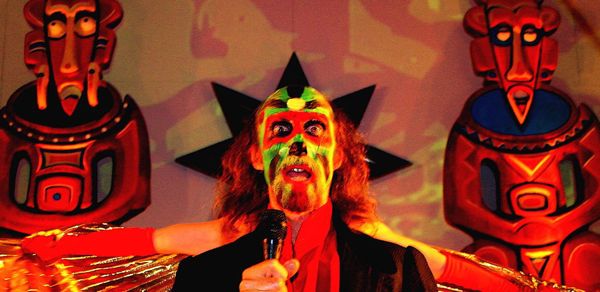 The Crazy World of Arthur Brown will be returning for a rare performance in the States, set for late August in Las Vegas.
Brown, best known for his psychedelic rock hit "Fire," has been booked for the music festival Psycho. The gig was confirmed on Brown's web site.
The British singer has remained active since his late 1960s breakout, and can be caught at various European music festivals. The U.S. booking appears to be his first in ages, however.
It's not know if Brown and his band will seek other U.S. bookings. (The singer and performance artist did not respond to a request for comment and details.)
The Crazy World of Arthur Brown's latest album is "Zim Zam Zim," crowdfunded and released in 2014.
The Crazy World of Arthur Brown's self-titled debut LP of 1968 is a top 20 entry in this web site's list of the top psychedelic albums. It was the only album produced by the "classic" Crazy World lineup, which included the late keyboardist Vincent Crane.
Pete Townshend produced some of the band's early tracks for the Track label. The Crazy World also worked with label mates the Jimi Hendrix Experience. Brown appeared as the Priest in the movie version of "Tommy."
Brown, in his mid-70s, has released more than a dozen studio albums over the decades, as a solo act and as part of the Kingdom Come and Crazy World bands.
Brown long has performed with a psychedelic theatricality, notably wearing a flaming headdress as "the God of Hellfire."
On upcoming gigs: "We are all eagerly looking forward to pushing our musical and performance boundaries so that we will constantly travel with our audiences into new territory and serve you tasty treats," Brown told Shindig! magazine last fall.
Psycho Las Vegas is a three-day event at the Hardrock Hotel, running Aug. 26-28. Other acts at the "heavy psych" festival include Sleep, Blue Oyster Cult, Death, Candlemass and Down. Last year's Psycho was in Santa Ana, Calif.