The second quarter's reissues of psychedelic music star Emerson, Lake & Palmer, Yes, the Moody Blues, Cream, XTC and Led Zeppelin. As usual, the audiophile formats of vinyl, SACD and 5.1 audio play strong supporting roles.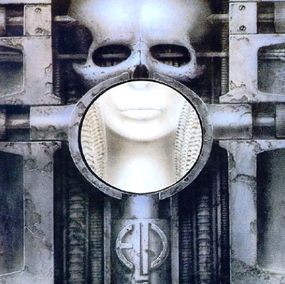 Emerson, Lake & Palmer plan a giant serving of "Brain Salad Surgery" for May 12, via a six-disc box set from Sony/Legacy. The prog import will run about $100. There's also a 3-disc CD+DVD version.
The trio's fourth studio album, it's highlighted by Greg Lake's silky-psychedelic "Still … You Turn Me On" and the brain-busting "Karn Evil 9" suite of 30 minutes or so ("Welcome back my friends …"). The 1973 album remains infamous for its prog-classical bloat and the sexy bio-mechanical artwork by H. R. Giger.
The Sony/Legacy rereleases feature a CD with the original album remastered. On DVD-Audio, there's a new 5.1 mix and the new stereo mix in 24 bit. Unreleased and odds & sods material from the original recording sessions comes on another disc, the "Alternate Album." The box set's DVD includes a feature-length docu with "highlights of the 1973 World Tour." There's also a 180 gram vinyl version of the original album, remastered.
"We are amazed that after 40 years, so much of the original recordings, photos and artwork are still usable," the band press-released. "Some of it has never been released before, but it's fascinating to hear how the recording progress. We are delighted that this new version will reveal some of these transitions."
Giger's artwork — a preview, perhaps, of "Alien" — returns as an "original release die-cut poster."
"Brain Salad Surgery" previously was reanimated in the SACD and DVD-A formats, but those ELP discs are out of print.
Cream's "Goodbye" says hello again on an SHM single-layer SACD, due May 30. It's a follow-up to the recent releases of "Fresh Cream" and "Disraeli Gears," the British trio's first two albums recently released in Japan on SHM-SACD — a format billed as the ultimate expression of the Super Audio CD format. Unlike the other SHM-SACD releases there are no bonus tracks listed, so it comes out to $10 a pop per song.
"Goodbye" was the original supergroup's breakup album of early 1969 with three live tracks (from the Forum in L.A.) and three studio cuts. The album is best known for "Badge," the single collaboration between Eric Clapton and George Harrison. The live section includes a blistering 6-minute take on "Politician."
XTC's pastoral-psychedelic masterpiece, "Skylarking," returns April 21 in what's billed, straight-faced, as the "corrected polarity edition." The CD features the sonic corrections made in 2010, fixing issues that affected all previous releases.
"Skylarking" was a stormy collaboration between XTC leader Andy Partridge and producer Todd Rundgren. The 1986 album reflected the two creative chiefs' love of the "Revolver"-era Beatles and other psychedelic pop of the late 1960s. Key psychedelic tracks include the opening twosome of "Summer's Cauldron" and "Grass," "Season Cycle," "1000 Umbrellas" and "Mermaid Smiled."
Unlike several recent XTC rereleases, the "Skylarking" rerelease comes only in stereo due to MIA tapes. It's an import via Partridge's Ape House label, complete with the pubic artwork the band wanted back in the day. Read more about the 2014 rerelease of "Skylarking."
The Who's "Quadrophenia" continues to feel the revisionist love, with a Blu-ray Pure Audio disc set for June 10. The 5.1 mix is by Bob Pridden and Richard Whittaker. 2.0 DTS, Dolby TruHD and PCM audio formats. From Universal.
The Who's live revival of "Quadrophenia" gets the multimedia treatment with a box set built around last July's performance at Wembley Arena. The concert film "Quadrophenia: Live in London" also comes separately on Blu-ray, DVD and downloads. There's also a Blu-ray Pure Audio disc with 5.1 surround. Release date is June 10. The metal box set includes five discs and goes for about $130. The concert includes "Quadrophenia" in full as well as "Baba O'Riley," "Won't Get Fooled Again" and the closer "Tea & Theatre."
Yes gets another ambitious rerelease in surround audio with "The Yes Album" on CD and Blu-ray or CD and DVD-A. The surround was done by Steven Wilson "from the original studio masters" and "fully approved by Yes." The Blu-ray also features a 24bit high-resolution stereo mix. There's also "a complete alternate album running order drawn from live tracks, singles edits & an extended mix," as well as instrumental tracks and a flat "needle drop" copy off an original UK vinyl record.
Songs on "The Yes Album" include the classics "Yours Is No Disgrace," "All Good People" and "Starship Trooper." The Panegyric rerelease of April 21 (import) follows the similarly epic re-do of "Close to the Edge."
The Blu-ray "Songs From Tsongas: 35th Anniversary Concert" expands on Yes' original DVD of the 2004 Massachusetts show. It adds more than a hour from a Lugano, Switzerland, gig by the classic lineup of Jon Anderson, Steve Howe, Chris Squire, Rick Wakeman and Alan White. The bonus feature is an interview with artist Roger Dean, who did the sets for the U.S. show. The Yes home video from Eagle Vision is due June 24.
Rick Wakeman takes another "Journey to the Centre of the Earth" with the rerelease of the 2012 performance piece. The 1999 sequel gets another spin as well. He just wrapped a tour in support of the June 23 rereleases. Read about the Wakeman "Journey to the Centre of the Earth" discs and vinyl.
The Moody Blues' cosmic classics "In Search of the Lost Chord" (1968) and "A Question of Balance" (1970) return on 180 gram vinyl May 19, thanks to Friday Music. "Seventh Sojourn" (1972) travels back June 3 in a "limited anniversary edition," also via Friday.
Pink Floyd's "The Division Bell" is ringing in its 20th anniversary with a multiformat box set featuring remastered discs. The album was the finale for Pink Floyd, made without Roger Waters. Included in the box set are a Blu-ray with the album in HD stereo (James Guthrie) as well as a 5.1 audio mix (Andy Jackson). The disc leads off with a new video for the Grammy-winning instrumental "Marooned" in 5.1 sound. The music video was shot recently in the Ukraine.
Also in the "Division Bell" box set, a double-LP version of the 1994 album remastered by Doug Sax; a 7-inch "Take It Back" single in red vinyl b/w "Astronomy Domine" live; and a 12-inch blue vinyl and 7-inch clear vinyl disc for "High Hopes." Illustrations includes the LP gatefold by Hipgnosis/StormStudios and "art prints." The Pink Floyd set surfaces July 1, going for about $130.
Record Store Day features reissues from the Doors, Jimi Hendrix, Jerry Garcia, the Yardbirds and the Zombies. Read about the psychedelic music on offer for Record Store Day 2014.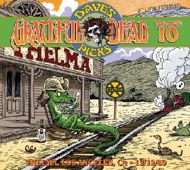 The Grateful Dead Sunset Strip shows of mid-December 1969 have been unearthed for the Dave's Picks series. Unfortunately, if you're not on the (subscription) list, you're not getting in — Vol. 10 is sold out in advance of its May 1 release. The three-disc set from the Thelma club — a short-lived L.A. venue — touts recordings made by Owsley Stanley, including the "once lost, now found first reel." Songs include "I'm A King Bee," "Hard To Handle," a half-hour "Turn On Your Love Light" and a big serving of "Alligator."
The Dead's "Dick's Picks" series revisited 1978 shows from Madison, Wisc., and Cedar Fall, Iowa, back in 2000. "Volume 18" returns June 3 via Real Gone Music. Songs include "Scarlet Begonias"/"Fire on the Mountain," "Eyes of the World" and "Estimated Prophet." Out of print for many a moon.
John Oswald's "Grayfolded" tribute to the Dead mixes up 100 performances of "Dark Star" recorded between 1968 and 1993, creating a singular musical work. The Canadian composer's mid-1990s exercise in "Plunderphonics" returns May 27 in a three-LP set from Important Records. Includes a pair of "time maps" sourcing the "Dark Star" performances.
Led Zeppelin's first three albums return June 3, the first wave of the reissue program overseen by guitarist Jimmy Page. Formats for "Led Zeppelin," "Led Zeppelin II" and "Led Zeppelin III" include a "Super Deluxe" boxed set (for each title), and double-disc CD and vinyl versions. Each of the double albums has a "companion" disc of live and studio bonus tracks. Single albums are on offer as well.
The Led Zeppelin rereleases are the first third of the highly anticipated reissue program, which consists of all nine of the psychedelic/heavy metal band's studio albums in chronological order. "Led Zeppelin" and "Led Zeppelin II" and considered the best and heaviest of the psychedelic blues genre.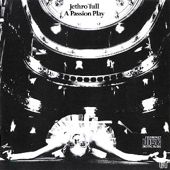 Jethro Tull's "A Passion Play" has a June 13 date for a revival run with new mixes in both stereo and 5.1 surround. Audio master Steven Wilson says the 2-CD, 2-DVD set includes "the lost album recorded at Château d'Hérouville in 1972, for the first time in its complete 60-minute form." Backstory: The band had planned an ambitious concept album to follow "Thick as a Brick," but bagged it due to drama and despair at the French sessions. "Passion Play" was rushed out instead. (Burning Shed has just released a live Tull album from the 2003 Montreux fest on clear vinyl.)
Also from Tull, a 180-gram redelivery of the first album, "This Was." The album had a blues-and-jazz feel that soon would be gone from the band's sound. Along with guitarist Mick Abrahams. June 17 from Parlophone.
Ian Anderson's "Homo Erraticus" arrives in all major formats April 15; a double-disc vinyl version follows from KSCOPE at the end of the month. Anderson again turns to his onetime child prodigy Gerald Bostock for inspiration and lyrics. This time it's a history lesson of sorts. Jethro Tull is touring in support of the album.
Kate Bush's "Hounds of Love" and "The Sensual World" are skedded for rerelease on vinyl May 5. Imports via Audio Fidelity. Steve Hoffman did the remixes several years back using the original masters.
The 13th Floor Elevators' "Live Evolution Lost: Live at the Houston Music Theatre" is due June 16 via Burning Shed (import). Mastered by Spacemen 3's Sonic Boom with liner noted from band expert Paul Drummond. One CD of "the set," another of jams including "(It's All Over Now) Baby Blue." Also on vinyl (colored, three discs).
The Rolling Stones' "Clearly Classic" vinyl series continues May 6 with releases of "12 X 5," "Through The Past Darkly (Big Hits Vol.2)" and "Get Yer Ya-Ya's Out!" The discs are pressed (by Quality Record Pressings) on clear 180-gram vinyl. "Darkly" delivers primo Stones psychedia on "She's a Rainbow," "Paint It, Black" and "Dandelion." Collect at will. On Abkco.
Robin Trower's power trio kicks off the show with "Too Rolling Stoned" on the 1976 release "Robin Trower Live," coming on 180-gram vinyl April 29, via Friday Music. Sorry, still just seven tracks. Trower's third studio LP, "For Earth Below," marked his retreat from psychedelic sounds — it follows on vinyl May 6.
Spirit's "Best Of" collection will come back April 22 on 180 gram vinyl. The Friday Music set replicates the old Epic greatest-hits set of 1974, so it's all from the L.A. band's classic lineup. The great but predictable tracks include "Mechanical World," "I Got a Line on You" and "Nature's Way." Friday just released a similar vinyl set from Mountain (Leslie West).
Kevin Ayers' "Diamond Jack and the Queen of Pain" finally surfaces on CD. The Soft Machine co-founder's 10th solo album has been MIA for more than 30 years. "Cut directly from the recently discovered original Audiofilm Studios analogue master tape," and ready for rerelease May 26 on CD and vinyl via Burning Shed.
Soft Machine's four-CD "Live in 1970" captures Mike Ratledge, Robert Wyatt, Hugh Hopper and Elton Dean at work at Ronnie Scott's in London. On Floating World, out June 23 and limited to 1,000 copies (import).
Also of interest: Caravan's "If I Could Do It All Over Again, I'd Do It All Over You" on May 6 (vinyl, 4 Men With Beards label) and "For Girls Who Grow Plump in the Night" on SHM-SACD (just out on Island); "The Mysterious World of Bernard Herrmann" at 45 rpm on June 3 (ORG); "Rain Dogs" by Tom Waits on SHM-SACD (Island); Fripp & Eno's "Evening Star" and "No Pussyfooting" on 200 gram vinyl May 27 (Discipline); and "Official Bootleg Live" from the Crimson ProjeKct headed by Adrian Belew and Tony Levin (double CD via Burning Shed).
To be announced: From the bubbling caldron of TBA come Love's "Forever Changes" on SACD; "Bitches Brew" from Miles Davis on SACD and 180 gram vinyl; Davis' "Miles in the Sky" "Filles De Kilimanjaro" on SACD and 45 rpm; "Highway 61 Revisited" by Bob Dylan on 45 rpm vinyl; "Workingman's Dead" and "American Beauty" on 45 rpm vinyl and on hybrid SACDs; "Santana" debut and "Abraxas" on SACD and 45 rpm vinyl (all from Mobile Fidelity and all TBA).
Also TBA: Roger Waters "Amused to Death" on 200 gram vinyl and SACD (Analogue Productions); Jack Bruce's "Silver Rails" on vinyl (Esoteric Antenna); and, incredibly, some kind of "Purple Rain" anniversary release with the full participation of Prince.
Note: Release dates for vinyl and SACD titles remain fluid until they actually ship. This record roundup will be updated through the quarter. SACDs are all hybrids unless specified otherwise; they work on a CD player but not in advanced resolution.
More 1960s/psychedelic music releases: