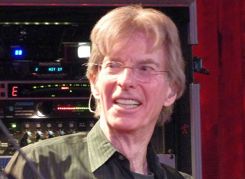 Longtime Grateful Dead bassist Phil Lesh has been treated for bladder cancer, but says he's expected to make a full recovery.
Lesh, 75, canceled several sold-out shows at his Terrapin Crossroads bar that were to feature Chris Robinson.
"I was diagnosed with bladder cancer in early October, and have spent the last few weeks at the Mayo Clinic in Scottsdale (Ariz.) doing tests and eventually surgery to remove the tumors," Lesh said in an Oct. 16 email sent to customers and later posted on the Terrapin Crossroads web site.
"I am very fortunate to have the pathology reports show that the tumors are all non-aggressive, and that there is no indication that they have spread."
Lesh successfully battled prostrate cancer in 2006. He also underwent a liver transplant related to hepatitis C in the late 1990s. Lesh's best-known song, "Box of Rain," is about his father's death from cancer. He ended his message to fans with a line from the song: "Love will see you through."
The bassist said he could "return to normal activities in two weeks from my surgery" and plans to jam at his bar in San Rafael, Calif., before leaving for a Phil Lesh & Friends run at the Capitol Theatre in Port Chester, N.Y., that begins at the end of the month.
Earlier in October, Lesh canceled a few dates due to "unforeseen circumstances."