The more or less forgotten Love album "Reel to Real" makes its CD debut in late November, fortified with four "newly discovered" tracks by Arthur Lee.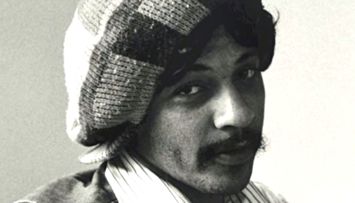 The 1974 album also will be "back on vinyl after more than 40 years" via a Feb. 19 rerelease on vinyl, according to the High Moon label.
High Moon debuted the unreleased "Black Beauty" album by Lee several years ago.
The "Real" album includes a dozen bonus tracks, 11 of them previously unreleased.
Lee's classic lineup of Love — the band behind the psychedelic music treasure "Forever Changes" — was long gone.
"Reel to Real" featured Lee working with his "Black Beauty" band and a posse of studio musicians, most notably the guitarist Harvey Mandel and the keyboardist Bobby Lyle. Like many albums of the day, it employed a trio of female backup singers.
"Reel to Real" has been described as Lee's black roots album. "He was into singing R&B, being funky and having horns," drummer Joe Blocker recalled in the book "Forever Changes." Lee also sought to distance himself from the sound of white psychedelic rock that had made him famous.
Recycled Lee songs on the LP included "Everybody's Gotta Live" and "Busted Feet" (from Lee's 1972 "Vindicator") and a reprise of "Singing Cowboy" (from Love's 1969 "Four Sail"). The band also cranked out a cover of the contemporary soul hit "Be Thankful for What You Got."
David Fricke, who wrote the essay for the reissue's 32-page booklet, has said the album was "rich in soulful, unconventional details, masterful singing, crunchy-guitar rock, straight-up Stax-grounded soul, eccentric psychedelia and contemporary funk."
Robert Christgau said side 1 of the album moved from the Jimi Hendrix tribute of Lee's 1972 "Vindicator" to "an Otis Redding — from simple songs to rhythmic gutturals." Things turned a bit stranger on side 2, Christgau said.
Lee, who had not released a Love album in four years, made the record for RSO Records, following the sessions for what was to be 1973's "Black Beauty."
Promotional efforts to reintroduce Lee and Love via supporting slots on an Eric Clapton tour proved disastrous due to the bandleader's bizarre behavior. While in England, he insulted RSO chief Robert Stigwood publicly, effectively torching the label deal that resulted in "Black Beauty" and "Reel to Real."
Lee later returned to the psychedelic rock of the original Love, both before and after his prison term that began in 1996. He died in 2006.
The newly unearthed Lee tracks are "Do It Yourself," "I Gotta Remember," "Somebody" and "You Gotta Feel It." They're described by High Moon as "three fully-produced rockers, and a spare, 'Imagine'-era John Lennon-by-way-of-Sly Stone studio sketch." Other bonus tracks are "alternate takes and mixes, live-in-studio rehearsals."