Looks like another monster holiday season for the Fabs, with news that "The Beatles 1" collection is getting a "visually inspired" upgrade starring music videos with surround-sound remixes.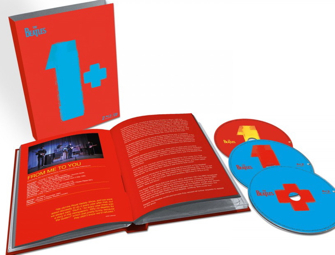 Set for a Nov. 6 release, the millennial greatest hits set is "newly restored and expanded in multiple configurations."
The mother lode will be found in what's billed as "Beatles 1+" — which "celebrates their career in over 200 minutes through 50 promotional films and videos," Apple Corps says.
The core concept is to pair the 27 original No. 1 hits found on the 2000 CD with Beatles videos — some pre-existing, some newly created with archival material. This is what's found on the new double-disc "Beatles 1."
New stereo mixes are on offer on the CD of the 27 original No. 1 hits. The videos, in the same running order, come with Dolby Digital 5.1 and DTS HD mixes. These remixes were done by Giles Martin and Sam Okell at Abbey Road.
Two-disc editions come either CD plus Blu-ray, or CD plus DVD. The three-disc set ("Beatles 1+") adds a third Blu-ray or DVD with 23 additional videos as well as alternate promos/clips. The three-disc version also features a 124-page book written by Mark Ellen.
What's not on offer is a straight retelling of the "Beatles 1" album with surround sound. The project does, however, greatly increase the number of Beatles song surround mixes released commercially.
(Those wanting audio-only can get the new stereo mixes on a single CD.)
Also not available, but in sight, is a double-disc vinyl version of "Beatles 1."
Many of the bonus videos were not used in the "Anthology" documentary project — or they were utilized in part. Paul McCartney does a few commentaries and Ringo Starr provides a handful of intros for the promo videos.
"These videos and films are spectacular reminders of the era we lived in," McCartney said. "They also rock!"
While the videos cover the Beatles' decade-long career, there are many highlights from the psychedelic era: "Yellow Submarine," "Penny Lane," "All You Need Is Love" and "Hello, Goodbye" (first video disc); and "Rain," "Strawberry Fields Forever," "Within You Without You/Tomorrow Never Knows," "A Day in the Life" and "Hey Bulldog" (second video disc).
Restorers undertook "painstaking frame-by-frame cleaning, color-grading, digital enhancement and new edits," Apple Corps said in announcing the "Beatles 1" rerelease.
"The new editions of 'The Beatles 1' have been made possible following extensive research, and restoration of the original promo films, classic television appearances and other carefully selected videos spanning the band's history."
Here are some samples of their work: