Van Morrison's psychedelic folk classic "Astral Weeks" finally is getting an expanded reissue via Warner Bros. Sony, meanwhile, has launched a massive revival of the singer's catalog.
"Astral Weeks" comes out Oct. 30 via WB/Rhino, on CD and digital files.
Morrison's rocking "His Band the Street Choir" also is due from Rhino at the end of October.
And 33 Morrison albums have just been made available digitally via Sony, some of them long unavailable in the market. Sony's Legacy label also has released a double-disc compilation of Morrison's works.
1968's "Astral Weeks" produced no hits, but its dreamlike quality influenced generations of left-of-center musicians. Morrison, known chiefly at the time for the top 40 hit "Brown Eyed Girl," had taken to working with acoustic music, employing jazz musicians on the album, his second. A classical guitar and stand-up bass replaced the obligatory electrics used in rock at the time.
"Astral Weeks" has long been considered one of the top albums by a rock artist, with a legacy that the Irish singer hasn't fully embraced. He did, however, perform the album as the centerpiece of several concerts at the Hollywood Bowl in 2008.
Key tracks include "Astral Weeks," "Cyprus Avenue" and the 10-minute "Madame George." Morrison has said the latter two tracks were "stream of consciousness thing(s)."
The title track announced Morrison as a lyricist worthy of Ireland's rich literary traditions. He opens the album with:
If I ventured in the slipstream
Between the viaducts of your dream
Where immobile steel rims crack,
and the ditch in the back roads stop
Could you find me?
Would you kiss-a my eyes?
On the artistic timeline, it falls neatly between "Forever Changes" and "Five Leaves Left."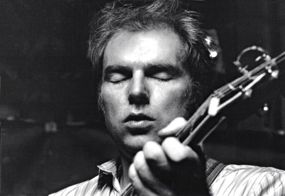 The album sold poorly, and at one point Warner Bros. chastised record stores for not carrying the title. But the notoriously cranky Morrison has blamed the label for not promoting the work.
Rhino's expanded edition adds long versions of two songs — "Ballerina" and "Slim Slow Slider" — as well as alternate takes of "Beside You" and "Madam George." The uncut "Slim Slow Slider" has been highly anticipated by Morrison aficionados.
"His Band and Street Choir," released in 1970, features some of Morrison's most popular songs, "Domino," "I've Been Working" and "Call Me Up in Dreamland." The Rhino CD will include alternate takes on the latter two tracks as well as three others.
Rhino previously released a five-disc retelling of Morrison's "Moondance." An angry Morrison said at the time that release was "unauthorized and it has happened behind my back." The Rhino "Moondance" included a 5.1 mix on Blu-ray, but the new "Astral Weeks" doesn't include one.
Sony's Legacy unit, meanwhile, has just released "The Essential Van Morrison," a 37-track compilation. Much of the Morrison catalog — beginning with "Saint Dominic's Preview" — also has been rereleased for digital/streaming.
Some Morrison albums have been out of print, for reasons often attributed to the artist.
"Most of the Van Morrison catalog has never been available for streaming and many titles have long been unavailable online through iTunes or other DSPs," Legacy said in announcing the Morrison releases.
"Much of the catalog has been out-of-print in any format, with some titles being unavailable for as long as 15 years."
Legacy bills its acquisition as "the most complete discography of (Morrison's work) ever assembled under one label imprint."
Legacy also plans expanded editions of "Saint Dominic's Preview," "Hard Nose the Highway," "It's Too Late to Stop Now" and "Enlightenment."
Late August's stream of Morrison news leaves "Tupelo Honey" as the long major work unaccounted for.