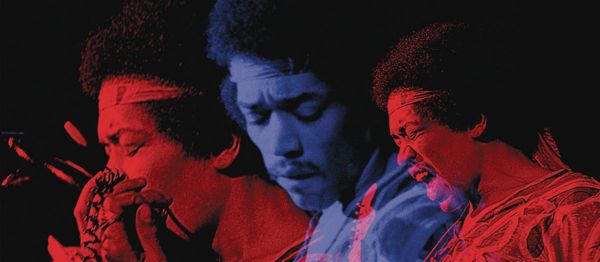 The Jimi Hendrix Experience's "Freedom: Atlanta Pop Festival" is set for an Aug. 28 release.
The live album will be offered by Sony Legacy in double-disc sets, both CD and 200-gram vinyl. It will be followed by a fall video release.
Key tracks include "Straight Ahead," "Lover Man," "Message to Love" and "Stone Free."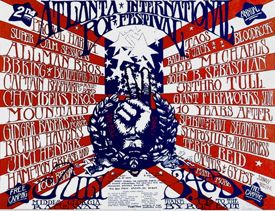 The track list appears to match the set list, and is in chronological order. "Hey Baby (New Rising Sun)," the final song Hendrix played at the fest, does not appear to be included, however. (Hendrix stopped played midway through the song.)
Hendrix performed July 4, 1970, at the second Atlanta International Pop Festival, which was in a field outside Byron, Ga. He was accompanied by Billy Cox (bass) and original Experience member Mitch Mitchell (drums).
As many as 400,000 people were there for Hendrix's headlining set, which came off hours after it was scheduled due to the heat. Other acts at the festival included the Allman Brothers Band, Spirit, Terry Reid and Lee Michaels.
Hendrix's performance — not considered one of his best — has been bootlegged on audio and released on VHS.
"Jimi Hendrix: Electric Church," a new documentary about the Atlanta set "and the circumstances surrounding it" debuts Sept. 4 on Showtime, followed by a Blu-ray & DVD release Oct. 30. The disc will feature content not shown on Showtime, the Hendrix web site said. "The film contains breathtaking, color 16mm footage of Jimi Hendrix's Independence Day appearance."
Docu interviews include festival promoter Alex Cooley, Cox and Mitchell.
Hendrix was finishing an American tour at the time. He returned to Europe and died a little more than two months later.
A 7-inch single release of the Atlanta "Purple Haze"/"Freedom" was released for Record Store Day.
The first 5,000 vinyl copies of the Atlanta album will be numbered, the Hendrix web site said in confirming the release.
The Atlanta mix was done by longtime Hendrix sound wizard Eddie Kramer.
The "Freedom: Atlanta Pop Festival" track list:
Disc 1:
Fire
Lover Man
Spanish Castle Magic
Red House
Room Full of Mirrors
Hear My Train a Comin'
Message to Love
Disc 2:
All Along the Watchtower
Freedom
Foxy Lady
Purple Haze
Hey Joe
Voodoo Child (Slight Return)
Stone Free
Star Spangled Banner
Straight Ahead
Personal note: I was there, sweating it out with the rest of the South's hippie population. Hendrix went on way late, and sounded off the whole time. Or maybe we were just too exhausted to listen properly after three days of good times and great music. So many amazing bands — Hendrix's wasn't one of them that long day and night. …