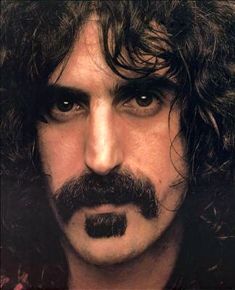 Frank Zappa's musical legacy is back for a lube job with news that the the Zappa Family Trust and Universal Music Enterprise have inked a new global licensing deal.
The late musician also will be the subject of a feature-length documentary in development with participation of the Zappa family.
Meanwhile, Zappa's son Ahmet has taken over day-to-day operations of the family's company, with the blessing of sometimes-controversial catalog guardian Gail Zappa.
The Frank Zappa documentary comes from actor-filmmaker Alex Winter ("Deep Web"). A 2017 release is envisioned.
The first Zappa Records/UMe release under the new deal will be a remastered 40th anniversary edition of Frank Zappa and the Mothers of Invention's "One Size Fits All" on vinyl, due Aug. 14. More unspecified 2015 releases were teased. The latest Zappa release was "Dance Me This," the final album he worked on before his death in 1993.
"I am universally thrilled with this partnership because the fans will have unparalleled access to Frank Zappa's Works — the doors to the vault are now officially wide open," Gail Zappa said.
Ahmet Zappa said: "The fans of Frank Zappa will have more music and more access — when they want it and how they want it." He cited "Joe's Garage, The Musical," the release of concert video "The Roxy Movie" and the release of the Los Angeles Philharmonic performance of "200 Motels" (Esa-Pekka Salonen).
"The partnership spans Frank Zappa's vast music and film Vault for new product releases, trademark licensing, film and theatrical production," the joint press release announcing the Zappa licensing and output deal.
Of the Zappa documentary, director Alex Winter said:
There has yet to be a definitive, authorized documentary on the extraordinary life and work of Frank Zappa. I am beyond thrilled to be embarking on this journey. Our tale will be told primarily in Frank's own words; he will be our guide through this journey.
Ahmet Zappa added: "This is not an easy story to tell and we trust that Alex truly understands the complex and multifaceted man that my father was," he said.
Winter is best known for his role as Bill in the "Bill & Ted's Excellent Adventure" films. Gail Zappa said the family likes "his attitudinal position — gravity and humor go a long way with us."
* * * * *
In other '60s rock documentary news, a Doug Sahm film appears to be a go after hitting its mark on Kickstarter.
Makers of "Sir Doug & The Genuine Texas Cosmic Groove" said they needed the funds to obtain music rights and finish their film, which screened at SXSW. The director is Joe Nick Patoski.
The late Sahm headed the Sir Douglas Quintet before embarking on a much-respected solo career.