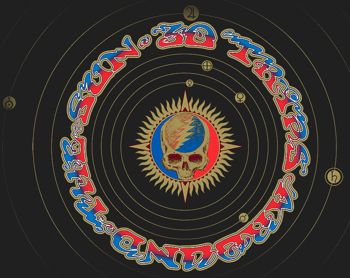 The half-century celebration of the Grateful Dead continues at warp speed, with news of an 80-CD box set of unissued live shows.
"Thirty Trips Around the Sun" resurrects 30 concerts, with more than 73 hours of music. The limited edition set (6,500, numbered) checks in with a $700 price tag. Release date for the Rhino set is Sept. 18.
A four-CD set, "Thirty Trips Around the Sun: The Definitive Live Story, 1965-1995," boils things down considerably.
A USB drive with all of the "Thirty Trips" content is planned as well, also at the $700 price point. The USB edition is limited to 1,000 copies.
Dead partner Rhino is issuing the box set, which will be sold exclusively via dead.net
The set more or less coincides with the series of "Fare Thee Well" concerts featuring surviving members of the band.
Archivist David Lemieux's concept for the massive box set was one show for every year of the Dead's touring life:
Our first criterion was the very best live music to represent any given year in the band's history. We wanted to make sure that there were not only the tent-pole shows that fans have been demanding for decades but also ones that are slightly more under the radar, but equally excellent.
The big set includes a 7-inch vinyl single with two bookending tracks: "Caution (Do Not Stop On Tracks)" from the first recording session in 1965 and "Box of Rain," the final number from their last show in 1995.
The box also comes with a 288-page book with a career-spanning essay written by Nick Meriwether of the Dead archives at the University of California, Santa Cruz.
The lightning-bolt decorated drive includes all of the music from the collection in both FLAC (96/24) and 320 KBPS MP3 formats.
"This is, without a doubt, the biggest thing we will ever do," Lemieux told Rolling Stone in a preview of the Dead's 80-CD set.
The Dead organization had planned to release the identity of the 30 concerts represented over time, but admitted early on that they were "scooped." And so …
Here is a list of the concerts represented on "Thirty Trips Around the Sun":
1966 — 7/3, Fillmore Auditorium, San Francisco
1967 — 11/10, Shrine Auditorium, Los Angeles
1968 — 10/20, Greek Theater, Berkeley, Calif.
1969 — 2/22, The Dream Bowl, Vallejo, Calif.
1970 — 4/15, Winterland, San Francisco
1971 — 3/18, Fox Theater, St. Louis, MO
1972 — 9/24, Palace Theater, Waterbury, CT
1973 — 11/14, San Diego Sports Arena, San Diego
1974 — 9/18, Parc des Expositions, Dijon, France
1975 — 9/28, Lindley Meadows, Golden gate Park, San Francisco
1976 — 10/3, Cobo Arena, Detroit, MI
1977 — 4/25, Capitol Theater, Passaic, NJ
1978 — 5/14, Providence Civic Center, Providence, RI
1979 — 10/27, Cape Cod Coliseum, South Yarmouth, MA
1980 — 11/28, Lakeland Civic Center, Lakeland, FL
1981 — 5/16, Cornell University, Ithaca , NY
1982 — 7/31, Manor Downs, Austin, TX
1983 — 10/21, The Centrum, Worchester, MA
1984 — 10/12, Augusta Civic Center, Augusta, ME
1985 — 6/24, River Bend Music Center, Cincinnati, OH
1986 — 5/3, Cal Expo Amphitheater, Sacramento, Calif.
1987 — 9/18, Madison Square Garden, New York City, NY
1988 — 7/3, Oxford Plains Speedway, Oxford, ME
1989 — 10/26, Miami Arena, Miami
1990 — 10/27, Zenith, Paris, France
1991 — 9/10, Madison Square Garden, NY, NY
1992 — 3/20, Copps Coliseum, Ontario, Canada
1993 — 3/27, Knickerbocker Arena, Albany, NY
1994 — 10/1, Boston Garden, Boston, MA
1995 — 2/21, Delta Center, Salt Lake City, UT