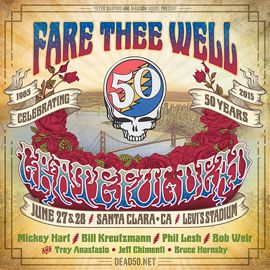 The surviving members of the Grateful Dead will say "Fare Thee Well" two more times with a pair of shows in Santa Clara, Calif.
The shows on June 27 and 28 will come before the trio of concerts at Soldier Field in Chicago (July 3, 4 and 5). The new shows had been widely rumored and tipped, but not confirmed.
"Since we made the decision to go back to Chicago to say our final goodbye, it has become clear to us that we first need to return to our beginnings, where we first said hello — to each other and to all of you," the band wrote in a letter to fans.
As with the Chicago shows, the lineup for Levi's Stadium in Santa Clara includes backing from Trey Anastasio (guitar), Jeff Chimenti (keyboards), and Bruce Hornsby (piano). The Grateful Dead 2015 are Bob Weir, Phil Lesh, Mickey Hart and Bill Kreutzmann.
The band called the Northern California dates "our final stand," vowing there will be no further shows. "This is it."
65,000 Grateful Dead tickets will be made available each night via "online mail order." They are being sold through Tuesday, April 14, at 3 p.m. PDT. Tickets are $60 through $200, in six price ranges.
The 210,000 tickets for the Chicago shows were gone in a flash, with millions of requests.
Noting the robust scalper market for the Chicago shows — "That would piss us off too" — the band said the online lottery system "will help ensure that the tickets for these shows will get into the right hands, the hands of our true fans." The show's promoter, Peter Shapiro, called it a "true lottery" with every applicant having an equal shot at a ticket.
Santa Clara is about 45 miles south of San Francisco, and about 12 miles from the music store where the band first took shape.
In other Dead doings, Netflix has picked up exclusive rights to the documentary "The Other One: The Long, Strange Trip of Bob Weir."
"We are proud to bring Bob's story to his fans around the world on the eve of the Dead's final shows," said Lisa Nishimura, Netflix vice president of original documentary and comedy.
The docu debuts on Netflix on May 22, following its screenings at a handful of film festivals.
More Grateful Dead content from Psychedelic Sight: