Kim Fowley, a strange and prolific rock music producer known for his work with L.A. bands, has died at age 75.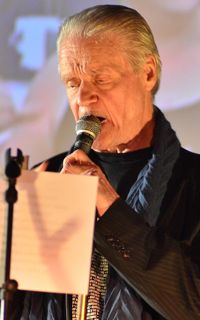 Fowley was best known for creating the all-female band the Runaways in the 1970s, but before that he was a key player on the Sunset Strip scene. Inevitably described as a Svengali, he also wrote songs and recorded albums under his own name.
"He'd been everywhere, done everything, knew everybody," said Steve Van Zandt, his friend and boss at the satellite radio channel Underground Garage.
Directly or indirectly, Fowley worked with the Mothers of Invention, the Byrds, the Seeds, Blue Cheer, Warren Zevon, Cat Stevens, Alice Cooper, Leon Russell, P.J. Proby, KISS and the Soft Machine.
That's Fowley speaking in tongues on Frank Zappa's early psychedelic classic "Help, I'm a Rock," recorded by the Mothers during an all-night freak-out.
The tall and often aloof music man was part Zelig as well. He gets some of the credit for bringing John Lennon to the stage in Toronto for the historic debut of the Plastic Ono Band (1969).
Fowley died in Los Angeles on Jan. 15 after suffering from bladder cancer.
Fowley worked until last week as a once-a-week DJ on Little Steven's Underground Garage channel on Sirius XM Radio. "Kim Fowley is a big loss to me," said channel namesake Van Zandt. "One of a kind."
Fowley, the child of L.A. actors, got his start with novelty records, notably "Alley Oop," which he recorded with a studio band. He worked as a promoter for early Motown Records. He also made the scene as a producer and songwriter in England during the mid-1960s.
In 2004, the U.K. archive label Ace released "Impossible But True: The Kim Fowley Story," a CD compilation. It included "Alley Oop," "Popsicles & Icicles" by the Murmaids, Foley's own "The Trip" and "Portobello Road" by Cat Stevens.
In recent years, Fowley focused on making oddball films such as "Black Room Doom" and "Satan of Silverlake." He was featured in the 2003 documentary "The Mayor of Sunset Strip," about DJ Rodney Bingenheimer, and portrayed by Michael Shannon in "The Runaways" feature film.
A book of his memoirs was titled "Lord of Garbage," predictably filled with sex, drugs, rock 'n' roll and curious claims.
Runaways frontwoman Cherie Currie wrote of Fowley on Facebook upon hearing of the death: "Thank you for starting my career when I was a just a child. You were instrumental in so many getting started in this crazy world of music. You are a genius … you are loved."
Currie's bandmate Joan Jett said via Twitter: "Kim was a friend, he taught me so much. I am very sad."
Currie and Fowley had a long falling out over his treatment of her and the other teen girls of the Runaways, but the musician welcomed the producer to live in her house as he battled the cancer in recent years.
Fowley died at his home, survived by his wife, Kara Wright Fowley.