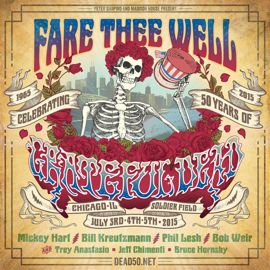 Playing in the band one more time — and maybe one last time.
The surviving key members of the Grateful Dead have set a series of July Fourth holiday shows — when else? — to mark their 50th anniversary as a band. The shows will be the last by the Grateful Dead, the band says.
Participating in the July 3, 4 and 5 concerts at Chicago's Soldier Field will be Bob Weir, Phil Lesh, Mickey Hart and Bill Kreutzmann.
They'll be joined by longtime allies Trey Anastasio (guitar), Jeff Chimenti (keyboards), and Bruce Hornsby (piano).
The concerts are billed as "Fare Thee Well: Celebrating 50 Years of the Grateful Dead." The shows come almost 20 years to the day after the last Grateful Dead concert, at the same venue.
"Lookin' forward to this one, oh boy, you bet," said singer guitarist Bob Weir. "Let's see just how much fun we can have this Fourth of July."
Bassist-singer Lesh said: "It is with respect and gratitude that we reconvene the Dead one last time to celebrate — not merely the band's legacy, but also the community that we've been playing to, and with, for 50 years."
Grateful Dead tickets are being sold in three waves:
Mail order beginning Jan. 20. "First come first served" based on postmark.
A Dead fan presale via Dead Online Ticketing at 10 a.m. CST on Feb. 12.
Public sale Feb. 14 at 10 a.m. on Ticketmaster.
Reserved seating from $60 to $200, with general admission (in front of the stage) at $100.
Three-day passes are on offer. There also is a VIP and Travel package with hotels and airfare.
Drummer Kreutzmann said fans can expect the good old Grateful Dead spirit of improvisation: "By celebrating our 50th, we get to cheer our past, but this isn't just about history. The Grateful Dead always played improvisational music that was born in the moment and we plan on doing the same this round."
Jerry Garcia's daughter Trixie Garcia said:
The great thing about these shows happening in Chicago, not only is it the amazing Americana of Chicago — the central location for all Dead Heads to come gather — but it's also the last place the Grateful Dead played together in 1995. Being able to get everyone back together — the fans and the band members — for this special weekend, is a really big deal.
More from Trixie: