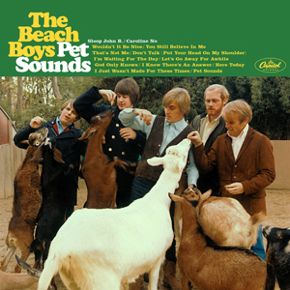 The Beach Boys' classic albums are returning to market in various audiophile formats, beginning this month and running through 2015.
Psychedelic-era works include "Pet Sounds," "Surf's Up," "Smiley Smile" and "Sunflower."
Analogue Productions' series begins Dec. 16. with early band titles "Surfin' Safari" and "Surfin' USA" and three others, on 200 gram mono vinyl.
The reissues are mastered by Kevin Gray at Cohearent Audio, "most from the original master tapes or best sources available."
"These are the best sounding and best-looking versions of the Beach Boys records that have ever been produced," said Chad Kassem, owner and CEO of label parent Acoustic Sounds.
Jan. 6 sees the rerelease of the early albums in stereo.
The later-period Beach Boys titles are coming "later in 2015." Releases include a mix of mono and stereo LPs, as well as hybrid SACDs for each of the 14 albums.
"Pet Sounds" has been released in 5.1 audio several times; the Analogue Productions SACD release features that mix as well as mono and stereo presentations.
"Surf's Up," "Holland" and "Sunflower" are all on stereo SACDs in addition to vinyl. "Smiley Smile" comes with a mono and stereo mix in SACD.
While "Pet Sounds" (1966) is widely regarded as one of the greatest pop/rock albums ever made, "Surf's Up" (1971) is a lesser-known masterwork, with head Beach Boy Brian Wilson working with Van Dyke Parks on the surrealistic title song. Carl Wilson contributes several strong songs. (The album was mixed for quadraphonic and some of that encoding may survive onto the SACD.)
"Surf's Up" (title ironic) was seen as a return to the ambitions of the "Pet Sounds"/"Good Vibrations" era, but in fact marked the end of Brian Wilson's creative run with the band.