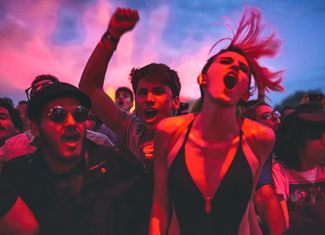 Tame Impala, the Flaming Lips, the Jesus and Mary Chain and Spiritualized will headline Levitation 2015 — aka the Austin Psych Fest — running May 8-10 in Texas.
Other top acts include Primal Scream and fest founding fathers the Black Angels.
Update: A 13th Floor Elevators reunion closes the festival.
The nation's largest psychedelic music festival dates back to 2008. It returns for a third year to rural setting of Carson Creek Ranch, located east of town, with weekend tickets now on sale ($165).
The festival was renamed in honor of some hometown heroes from the first psychedelic era:
"The title comes from one of our favorite tracks from Austin legends the 13th Floor Elevators, who have provided us with endless inspiration," festival organizers the Reverberation Appreciation Society said in announcing the change — the "Reverberation" part being another nod to the 1960s band.
The Black Angels have toured with Roky Erickson, the eccentric frontman for the Elevators, who also headlined the festival a few years back.
The festival operation recently wrapped the second Levitation France event, starring La Femme, Kadavar, Loop and the Goastt. 2015 will mark the first year for the Levitation brand in Austin.
Other acts include Thee Oh Sees, Mac Demarco, Melody's Echo Chamber, Lightning Bolt, the Sword, Earth, A Place to Bury Strangers, Fuzz and the Soft Moon.
Australia's Tame Impala and Oklahoma's the Flaming Lips toured together in recent years, but almost certainly will close different nights of the festival. Specific day lineups and additional acts will be announced in February.
The event bills itself as "the original modern-day psychedelic music festival," which began as a one-day showcase for mind-altered music in Austin. The festival moved around various venues in Austin before settling on the ranch.
Festival organizers say they've welcomed the many like-minded events that followed in their wake:
Over the years, countless other "psych fest" events have popped up around the globe — music communities all over the world are gathering together and celebrating music and art together, under the banner of psychedelic rock. This is an amazing thing and we are proud to be a part of it.
Organizers the Reverberation Appreciation Society are working with local promoters Transmission Events.