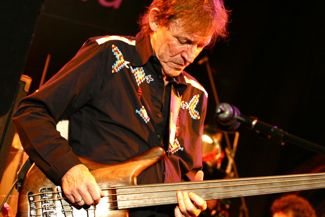 Cream's Jack Bruce, a versatile and deeply creative rock singer and bassist, has died at age 71.
The Scottish musician had long suffered with liver disease. He underwent a transplant in 2003 and recovered to do a widely praised series of reunion concerts with Cream bandmates Eric Clapton and Ginger Baker. It was clear at those 2005 concerts — in London and Manhattan — that Cream was in many ways Bruce's band.
While successful, those concerts were to be Cream's last, in part because of long-running animosity between Baker and drummer Baker. The shows were seen as a way to help Clapton's bandmates deal with their many medical expenses.
Clapton said he heard of his ex-bandmate's death with "great sadness": "He was a great musician and composer, and a tremendous inspiration to me."
Baker called him "a fine man."
Bruce maintained an active solo career, releasing more than a dozen albums stretching from 1969's critically praised "Songs From a Tailor" to this year's comeback effort "Silver Rails."
His well-known songs with Cream include "White Room," "I Feel Free," "Sunshine of Your Love," "Politician" and "Deserted Cities of the Heart" (all with Peter Brown). He and Brown also wrote "Theme for an Imaginary Western," notably covered by Mountain.
Bruce, with a background in classical music, helped rock bass playing free itself from "the bottom," unleashing swarms of notes as he and Clapton swapped leadership roles on lengthy jams on blues standards like "Spoonful." Instead of the Fender Precision bass favored by rock and soul players of the time, he played a Gibson EB-3.
He also worked in jazz, performing with progressive luminaries such as John McLaughlin, Larry Coryell and Carla Bley. He was a member of Tony Williams' Lifetime. Bruce's session work included dates with Lou Reed and Frank Zappa. Most recently, he toured with his Big Blues Band.
Bruce sought to duplicate Cream's power-trio format several times, without similar success, working with Robin Trower and Leslie West. Other ace guitarists he worked with over the years included Vernon Reid, Joe Bonamassa, Mick Taylor and Gary Moore.
Bruce studied cello at the Royal Scottish Academy of Music. The teenager picked up the standup bass to play jazz, which he said led to his being thrown out of school.
Like many stars of the British blues movement, Bruce started in London with Alexis Korner's Blues Incorporated. He then joined the Graham Bond Organization. Bruce met drummer Baker in Bond's band, with the duo at odds almost from the start, getting into onstage fights. Baker reportedly found Bruce's playing "too busy" and agitated for his firing.
Bruce then hooked up with guitarist Clapton in John Mayall's Bluesbreakers. He played on the group's hit "Beano" album, which put British blues on the map and made Clapton a worldwide star.
Moving on to Manfred Mann, Bruce performed on the 1966 pop hit "Pretty Flamingo."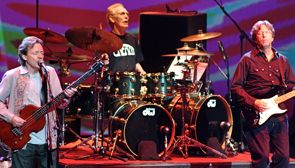 Later that year, Clapton agreed to team up with Baker in the drummer's new group, with the condition that Bruce be hired as the singer and bassist. Baker agreed, despite his history of trouble with Bruce. The story goes that Baker almost crashed the car he was driving when Clapton proposed hiring Bruce.
Thus was born Cream, the rock world's first "supergroup" — although Bruce and Baker were largely unknown outside Britain — and its first successful power trio.
Cream lasted for two years, producing two strong studio albums — "Fresh Cream" and the psychedelic classic "Disraeli Gears" — as well as two LPs that leaned on the combo's blistering live shows — "Wheels of Fire" and "Goodbye."
Their major hits were "Sunshine of Your Love," "White Room" and "Badge." The band's influence on progressive rock, heavy metal, psychedelic rock was vast and undeniable.
Cream broke up in late 1968 and Baker released the first of his more than a dozen solo albums the next year. Cream was inducted into the Rock and Roll Hall of Fame in 1993, with the estranged band members reuniting for the ceremony.
Bruce told Rolling Stone in 2014 that Cream ultimately was doomed by its famed improvisations:
In the same way that the Who had to trash their equipment every night, we had to have a 20-minute drum solo every night. And those sorts of things, if you feel like playing for 20 minutes, why not? But if you don't and the audience demands it, it becomes quite difficult.
(A box set of Cream's albums on vinyl is set for next month.)
Despite the stormy history, Bruce and Baker worked together off and on over the years, touring the U.S. in 1991 as a duo and making nice on David Letterman's show.
Baker said of Bruce's death: "I am very sad to learn of the loss of a fine man, Jack Bruce. … My thoughts and wishes are with his family at this difficult time."
Bruce had a long history of drug abuse, leading to his fall 2003 liver transplant.
The Cream reunion shows boosted his profile as a solo artist, as did appearances on the lengthy U.S. Hippiefest package tour of 2008.
Bruce played frequently at European tribute shows and awards shows. His "Silver Rails" was his first album in a decade, featuring collaborators Trower, Phil Manzanera and John Medeski.
Bruce was the subject of the biographies "Composing Himself" and "Jack." The BBC did a 2012 documentary about his life. The late '60s film "Rope Ladder to the Moon" looked at his transformation from Cream's frontman to a solo act.
Bruce, born in Glasgow, Scotland, in May 1943, "died today (Oct. 24) at his home in Suffolk, England, surrounded by his family," a publicist said.
His family added: "The world of music will be a poorer place without him but he lives on in his music and forever in our hearts."
Survivors include his wife Margrit and four children.
Top photo by Christian Sahm